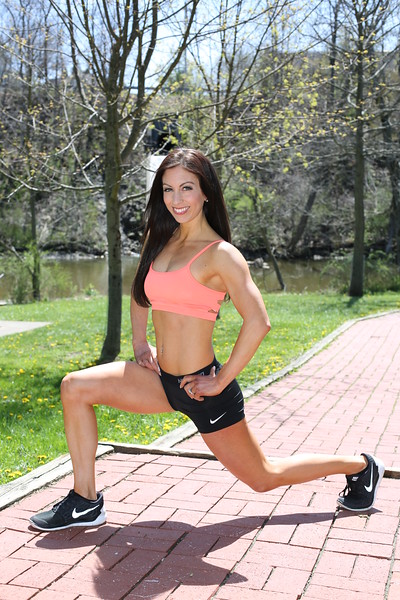 Looking to get healthier, more fit, and feel better this summer?
Try any or all of the tips and swaps below!
Here are 40 ways that you can improve your health, fitness, eating habits and more.
Little habits do add up over time to create sustainable changes. It just takes mindfulness and the willingness to put in the effort. Start now and see how much closer you are to your health goals by the time Labor Day comes around! 🙂
Nutrition:
Stay hydrated: Drink PLENTY of water/fluids throughout the day, especially if you are outside and/or exercising. Rule of Thumb: Drink AT LEAST half of your body weight in ounces of water every day. For every 20-30 minutes of exercise, add 8-10 ounces.
Start your day with a balanced breakfast of protein, quality carbs and fats. Some ideas:

Egg white veggie omelette with avocado

Have a nutrient dense snack: Homemade trail mix, veggies with hummus, high protein bar or homemade bar, low sugar Greek yogurt, etc.
Skip the "chips & dip" & try fresh raw veggies with hummus, salsa, or guacamole
Swap high fat icecream and desserts for healthier "sweet treats":

Fresh fruit with nut butter or chocolate sauce
Yogurt parfait
Low sugar icecream bars such as Enlightened, Yasso or Arctic Zero
Make a thick protein shake or freeze into protein icecream

At cookouts and parties, skip the creamy/heavy salads like coleslaw/potato salad & go for the greens and fresh veggies
At get-togethers/buffets "pick your favorites": Choose mostly nutrient dense choices but then just one or two special treats to enjoy
Cut fat but not flavor with your meat choices:

Use lean ground turkey (antibiotic/hormone free of course!)
Lean 90/10 grass fed ground beef (instead of 80/20) for burgers
Antibiotic/hormone free chicken sausage/bratwurst in place of pork links

Forgo the white buns and grab sprouted bread, go bun-less, or use lettuce as your wrap
Be smart with alcohol: drink in moderation & pick the light beers and red wine over sugar cocktails
Swap out fruit juices/sodas in your adult beverages for flavored sparkling water and/or tonic water. Flavored liquor also has good flavor without the extra cals!
Stay full & keep your muscles happy: Eat a lean protein source (chicken, fish, eggs etc) 3x a day
Keep your portions in check: Use measuring cups, use the "hand" method and/or invest in a food scale (Click here to read my article on portion sizes)
Eliminate sugar beverages: soda pop, juice, etc. & try unsweetened teas, flavored water, water drops etc.
Try seasonal vegetables in your next meal! Zucchini, summer squash, tomatoes, cucumbers, peppers & asparagus are all delicious!
Skip takeout & pack your lunch to work; try a new salad recipe or pack dinner leftovers.
Fitness:
Get up and move! Step your daily goal to take at least 10k steps
Invest in an Activity Tracker and/or Heart Rate Monitor for accountability & to track your workouts
Get up at work at do 20 Jumping Jacks & 20 air squats every hour
Do full body stretching every day for 10 minutes
Take a group exercise class
Go exploring: Walk/hike a local metropark, beach, lakes, etc.
Try a fun summer/recreational sport: swimming, kayaking, biking, volleyball, soccer, basketball etc
Train your core: Practice holding 30 second Planks & work up to holding for a full minute
Time one of your workouts/circuits; then repeat in a month and try and beat your time!
Work up to doing consecutive 25 burpees
Exercise 3x a week for a consecutive 2 weeks
Keep a Workout Calendar or Journal and log all of your completed sessions. This will keep you more accountable & motivated to stay consistent.
Try a new strength training circuit or split for the month
Do Fat Scorching Cardio: Add a session of intervals or better yet, HIIT Sprints to your weekly workout schedule
Wellness:
Practice Meal Mindfulness: Eat your meal until you are satisfied, not stuffed
Enjoy the nice weather! Spend 15-20 minutes outside in nature every day
Choose natural mineral sunscreens over conventional brands. Look for zinc oxide and/or mineral on the label.
Have a "No Phone Policy" during conversations with family & friends
Spend 20 minutes in "Alone & Quiet Time" every day (prayer, meditation, reading etc)
Start a Gratitude List: Write down 3 positives of the day
Get a minimum of 7 hours of sleep per night
Create a healthy sleep routine: Use essential oils, aromatherapy, meditation, journaling, reading  etc.
Invest in quality supplements and take them daily: My "Essential 3" are: whole food mult-vitamin, Omega 3 oil & Probiotic
Perform 1 Act of Kindness every day
Plan a get-together or day out with your friends or family: go shopping, see a movie, or try one of the fitness tips above!