As we live in a "Super-Size" nation, we are bombarded with extremely large portion sizes from restaurants, fast food chains, and even grocery stores. What really is a proper serving size anymore? Do you really know how much you are eating? It might seem easy to "estimate", but since our eyes (and stomachs) are accustomed to huge servings, they might not be the most accurate anymore.
This comparison shows that our food is not what it used to be. It is growing…literally…
Just because the sizes are getting larger, doesn't mean you and your meals need to as well!
Let's go over some key points:
A "serving" is the amount of food recommended in consumer education materials such as MyPlate.
A "portion" is the amount of a food you choose to eat at any one time — which may be more or less than a serving.
When the amount we are served increases…our portion sizes tend to increase as well…
Here is a table that describes proper serving sizes of common foods: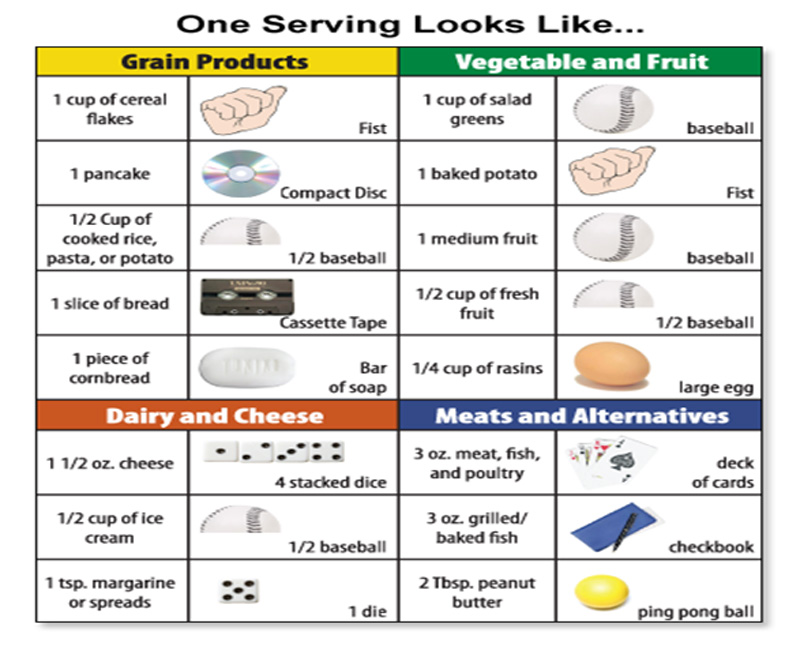 Learning the right sizes first will help determine the correct portions. Remember, the portion (the number of servings you consume) will depend on your gender, weight, age, goals, etc.
Some foods we easily misjudge portion size:
Meat (chicken, fish, etc.)
Cereal
Pasta/Rice
Nuts/trail mix/dried fruit
peanut butter
cheese (all kinds)
Condiments like salad dressing, sauces, butter, oil ,etc.
Here is another chart that uses your hand to show proper serving sizes:
We must also be cautious to read the nutrition labels carefully. Even though an item is sold as a single portion, there might be multiple servings within that one package. Be careful and take your time when choosing your foods and how much you will really be eating.
Take a look at this photo below…there are technically FOUR servings in this bag.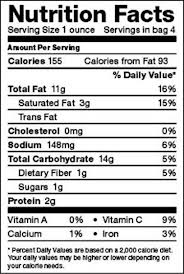 Ok, so now that we know the correct serving sizes, how do we make the smartest choices and stick with it?
Helpful Hints:
Study the nutrition labels! Here you will find all the information you need to determine the serving size of that item. This will help you make better decisions on the portion you choose.
Keep a food diary. This might be tedious, but it can really help you stay accountable and focused on what, how much, and when you are eating. I highly recommend a diary if you are working towards weight/fat loss goal or a calorie controlled nutrition plan. You can look back and see what areas need improvement or what you struggle with. Measuring your food makes a food journal a lot easier and less time consuming.
Measure out your food. Having a general idea of a portion size ( ie tennis ball, deck of cards, etc) can be helpful when you are first learning the basics or when you are dining out. However, if you are keeping a food diary and/or tracking your daily calories, measuring/weighing your food is highly effective. There is no guessing or estimating! Whip out those measuring cups and spoons; you might realize you were actually consuming multiple servings worth!
Invest in a food scale. These can be found anywhere (Target, Walmart, online, etc.) for a reasonable price and are great for food that are easier to measure when weighed (meat, nuts, etc) than in a cup or spoon. Highly recommended!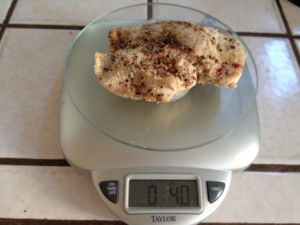 Determine your portion BEFORE eating. If you are eating from a package with multiple servings, avoid eating straight from the package. This will help you stay within the correct portion size and avoid mindless eating.
Prepare your own food. Serving sizes at restaurants and fast food joints are usually TRIPLE the correct serving size. Plus, restaurant/fast food is usually laden with extra calories, fat, sugar, and processed ingredients. Not what we want! The more you control your own food (yep….food prep!) the easier it will be to control your sizes, calories, and ultimately your progress.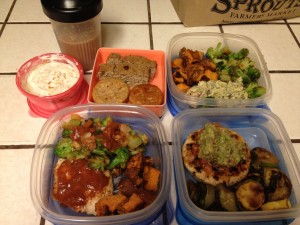 Use smaller dishes. This is an easy tip to help "trick" your mind if you are downsizing your portions. Swap out your large bowls and plates for small appetizer plates and dishes. Even try using appetizer spoons/forks to eat slower and enjoy the food and the (smaller) portion.
Most of all, listen to your body! Even though you might have a certain portion of food/meal in front of you, doesn't mean you HAVE to eat it. Use your stomach to determine when you are done eating versus the notion " I have to clean my plate". This will help prevent overeating and help you learn your body's signals of when you are satisfied and content…plus the right portions for your body! 🙂