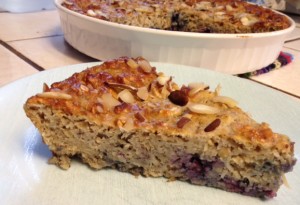 Reasons why I love this recipe:
It is simple, quick and easy to make
A "complete" meal full of protein, complex carbs, and healthy fats
Has an equal ratio of protein:carbs to provide long lasting energy
Can be made ahead of time
Great for a grab-and-go breakfast
Perfect for a pre or post workout meal
A great brunch idea for the whole family
It's cake…who doesn't like cake?!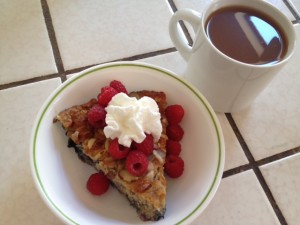 This baked breakfast "treat" is super tasty!!! It is moist but with a slightly crisp outside! It is almost a mix between a cookie and cake…you can easily pick it up and eat it cold, or serve it warm with your choice of toppings!
Pictured: Blueberry Almond (Oatmeal Breakfast Cake)
Ingredients: (base recipe) Makes 12 slices/12 servings
2 cups dry (old-fashioned) rolled oats
4 scoops vanilla whey/casein blend protein powder*
2-4 tbsp baking Stevia (or to taste)
1 tsp baking powder
dash of salt
1 medium banana (1/2 cup mashed/60g total weight)  1/2 cup canned pumpkin OR unsweetened applesauce
1/2 cup nonfat plain greek yogurt
1 tsp vanilla extract
1 cup unsweetened almond milk
1 whole egg
2 egg whites
Optional Ingredients:
1/2 cup berries (fresh or frozen)
Cinnamon
* I personally use Dymatize Elite XT Extended Release Protein Powder for my baking recipes. I have tried other whey protein powders, and this one specifically provides the richest flavor and a super moist texture in my recipes. You can find this online, Vitamin Shoppe, etc. http://www.dymatize.com/products/protein/detail/587/elite-xt-4.4-lb/
**For a dairy free recipe, feel free to omit the yogurt and use all banana, or even applesauce, pumpkin, etc. Do keep in the mind the protein/carb ratio will change.
Directions:
Pre-heat your oven to 350F.
Mix all the dry ingredients together in a large mixing bowl.
In a separate bowl, combine the remaining wet ingredients (except the berries, crushed nuts, etc.) and mix well.
Slowly add the wet mixture to the dry ingredients and stir thoroughly together. The "batter" should be thick, almost the consistency of a big bowl of cold oatmeal 🙂 . It should not be too dry like a cookie batter and also not too runny.
Pour your mixture into a well-sprayed casserole or pyrex dish. I personally like using a round dish, but feel free to use whatever you have. (They might end up being more breakfast "squares" than cakes ;))
If using them, add your berries now by "dropping" them into the dish and "fold" them in gently. (I find this works better, as they do not drop all the way to the bottom).
Bake your breakfast cake at 350F for about 35 minutes. Check at 30 minutes; the cake should be slightly brown on top and pulled away slightly from the sides. A toothpick/fork should also come out clean (from the center).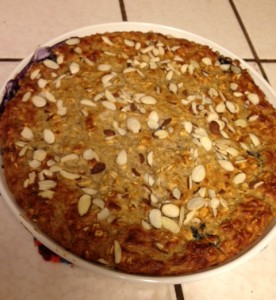 I like to enjoy this with warmed berries and a little whipped cream on top! YUM! Enjoy!! 🙂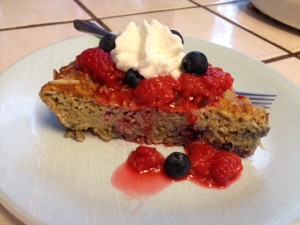 You can easily change the "flavor" of your cake as well…here are some other good "add-ins":
Fresh or frozen berries
Sliced peaches or nectarines
Spices like cinnamon, nutmeg, etc.
Powdered peanut butter (PB2)
Dark chocolate chips
Raisins or cranberries
Crushed walnuts or pecans
Sliced almonds
Apple Cinnamon:
Sub unsweetened applesauce (for the banana)
Add: 1-2 tsp cinnamon, 1/2 tsp nutmeg, 1-2 tbsp sugar free maple syrup
Optional: Add diced apples or layer apple slices on top, crushed walnuts, etc.
Banana Cinnamon Walnut:
Omit greek yogurt and use all mashed banana
Add: 1-2 tsp cinnamon, 1/2 tsp nutmeg, 1-2 tbsp sugar free maple syrup, and 1/4 to 1/3 cup crushed walnuts on top
Pumpkin Spice:
Omit banana and use 1/2 cup pumpkin puree and 1/2 cup yogurt (could sub all pumpkin)
Add: 1 tbsp cinnamon (I like a lot!), 1 tsp nutmeg, 1/2 tsp ginger, 1/4 tsp allspice/cloves, 1-2 tbsp sugar free maple syrup, 1 tsp vanilla extract
Add 1/4 cup fresh or dried cranberries and 1/4 crushed walnuts (optional but recommended!)