This is one of my favorite recipes! And it is SO simple to make! The silicone baking loafs really do work best with these. Of course you do not need to add the chocolate chips..but why wouldn't you?? 🙂
Ingredients:
1.5 scoops protein powder (vanilla or chocolate works, depends how much chocolate flavor you'd like 🙂 )
3 tablespoons ground flaxseed
1 cup canned pumpkin puree
3/4 cup egg whites (reg or carton is fine)
Stevia-to taste ( I use between 2 and 3 tbsp)
1/2 tsp baking powder
Chocolate chips (mini would work well) I honestly didn't measure; started with a handful and went from there 🙂
Mix all ingredients all together until all blended. Pour into a silicone baking loaf pan, or a very greased new loaf pan or else it might stick :/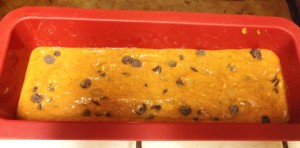 Bake at 350F for about 30-35 minutes depending on pan size. Test the middle of the loaf and your knive should come out clean.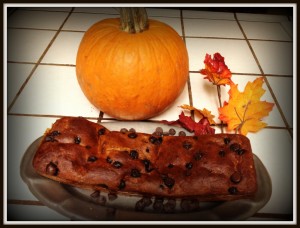 Such a good sweet treat at any time of the day. It is super moist, I would almost consider it a "cake" than a bread, especially with the chocolate chips. I had mine the other morning with eggs and coffee. Enjoy!