High Protein Cake
This is a super easy yet delicious treat to bake! It is super low in carbs (only 7g per serving) with a whopping 11g of protein! The coconut flour and the protein powder create a fluffy "sponge cake" texture without being too dense. It is gluten free and can be made dairy free as well.
It is a great portable snack or on the go meal! It is great by itself or I have enjoyed it with nut butter or as a treat topped with fresh fruit and yogurt!
Feel free to get creative and add more toppings/mix ins as well! Some I suggest would be fresh/dried fruit, chopped nuts, chocolate chips, spices etc! 🙂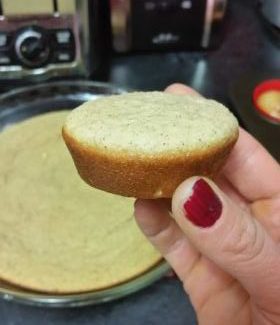 Ingredients:
1/2 cup coconut flour
1 scoop (30g) protein powder (whey, whey/casein blend or pea protein)
1.5 tsp baking powder
2-4 Tbsp Baking Stevia
2 whole eggs
1/2 cup (or 4) egg whites
1/2 cup (50g) mashed banana, applesauce, or canned pumpkin
1/2 cup plain Greek yogurt (can sub more banana etc for a dairy free version)
1/4 cup unsweetened almond/cashew milk
1 tsp vanilla extract
Optional: cinnamon, pumpkin pie spice, maple extract, etc.
Pre-heat oven to 350 F. In a large bowl, mix all dry ingredients together. Add the remaining wet ingredients and mix well until it is a smooth batter. Pour into a well sprayed Pyrex dish (square or circular) or muffin tins.
Bake at 350F for 25-30 minutes (depending on if you make muffins or a large cake). The sides should be lightly browned and a toothpick should come out of the center clean.
Nutrition Info:
Total calories for the entire recipe (using whey protein/greek yogurt & no additional ingredients):
790 calories: 54g Carbs (27g Fiber & 15g Sugar) /24g Fat/ 86g Protein
For 8 cake slices:
1 slice: 100 calories/7g Carbs (3g Fiber & 2g Sugar) /3g Fat/ 11g Protein