My new favorite breakfast recipe! This is very similar to my Protein Breakfast Cake recipe, except less ingredients and made in muffin tins 🙂 Although it is baked oatmeal, there is added protein to make this a complete and balanced meal! These are not only so easy to make, but great for travel and a quick meal out the door. I have also had these as a pre and post workout meal as well!
I LOVE the combination of the banana, cinnamon, and peanut butter flavors. The peanut butter in the muffins makes them so moist, rich, and very filling! This is optional, but highly recommended! 😉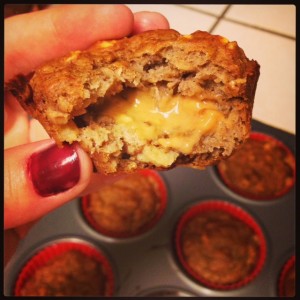 Ingredients: Makes 12 muffins
1 cup dry old fashioned oats
3 scoops whey protein powder (vanilla)
2 tbsp Stevia (could omit)
1 tsp baking powder
1 to 1.5 tsp cinnamon
1 & 1/3 cup unsweetened almond milk (or water)
1 medium banana, mashed
1 tsp vanilla extract
All natural peanut butter-about 1/2  tbsp for each muffin
2-3 tbsp PB2/peanut flour (optional)
In a large bowl mix all your dry ingredients together. Stir in your wet ingredients until it is fully mixed.
Fill each muffin tin a little less than half full with the batter. Spoon about 1/2 tbsp of peanut butter into each muffin tin on top of the batter.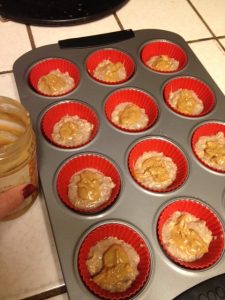 Fill up each muffin with the remaining batter, covering the peanut butter filling.
Bake at 350F for about 30 minutes. Wait a few minutes before removing the muffins from the tins, as they will still be very moist (and hot!)
Some substitutions (that I plan to try as well!):
Apple Cinnamon: Substitute banana for 2/3 cup unsweetened applesauce. Add 1 tsp cinnamon, 1/2 tsp nutmeg, cranberries, raisins, crushed nuts, etc.
Pumpkin Spice: Use 2/3 cup canned pumpkin puree, 1 tsp cinnamon, 1/2 tsp nutmeg, cranberries, raisins, crushed nuts, etc.
Keep the banana and substitute cinnamon for: chocolate chips, cocoa powder, etc. Get creative! 🙂
Nutrition Info: (with the PB filling)
1 muffin: 100 calories   9.5g carbs   7.5g protein(!)  4g fat