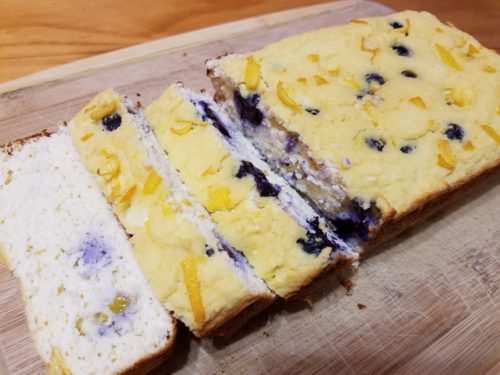 I took my original Grain Free Banana Bread recipe and changed it to make it Lemon! This is great recipe that can be made into a loaf or muffins. The addition of the berries adds a punch of flavor and pop of color as well. This recipe is gluten/grain free as well!
Ingredients:
🔹1/2 cup coconut flour
🔹2 scoops (60g) vanilla grass fed whey protein 🔹1/2 cup baking stevia
🔹2 tsp baking powder
🔹2 whole eggs (free range)
🔹2 egg whites
🔹1/3 cup unsweetened applesauce
🔹Juice from 1 large lemon
🔹Zest from 1 whole lemon
🔹1-2 tsp pure lemon extract (your preference)
🔹3/4 cup unsweetened almond/cashew milk (or water)
🔹Optional: 1/3 cup berries
Directions:
Pre heat oven to 350F. Use a Y peeler to make lemon zest, then chop finely & separate in half.
Mix all dry ingredients together in a large bowl. Then add all wet ingredients (1/2 of lemon zest) except milk. Mix well and add the milk 1/4 cup at a time. It should be a smooth & manageable batter; not super thick but not runny either.
Pour evenly into a loaf pan OR muffin tin. Drop berries into batter & press them lightly down. Sprinkle remaining lemon zest on top.
Bake at 350F for approximately 35-40 minutes (check at 30 min). The sides of the pan should be brown/pulled away from the edges & a toothpick will come out clean from the center. The coconut flour holds in a lot of moisture, so it might seem still undercooked in the middle, but it will set once cooled 🙂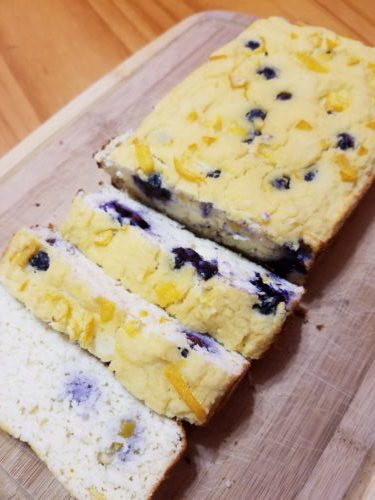 Nutrition Info: (Makes 10 Slices, 50grams each)
1 slice: 75 cals/7.5protein/5.5carbs/2g fat (2g fiber & 1g sugar)