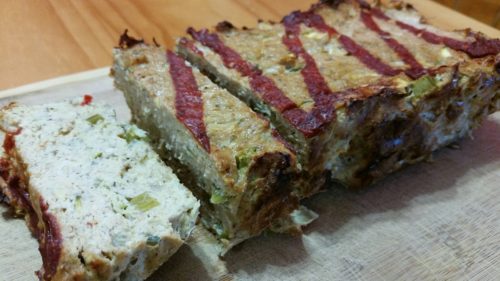 Comfort food that is delicious yet healthy at the same time! To eliminate the use of refined flour, I substitute bread crumbs for oat flour/oatmeal. I also use ground turkey in place of beef to cut back on the fat. Extra lean ground chicken is also a great alternative! (Using lean 93/7 ground turkey is another option if extra lean is not available).
Extra lean meat can turn out dry, but the addition of the zucchini and other veggies lock in the moisture & give it great texture as well 🙂
Ingredients:
1 16oz package of extra lean 99/1 (or lean ground 93/7 turkey or ground chicken)
100g grated zucchini
1/2 cup finely chopped sweet onion
1/4 cup finely chopped (green) bell pepper
Optional: 1/4 cup finely chopped celery
1 whole (cage free) brown egg
2 Tbsp reduced sugar ketchup (+1 Tbsp for on top)
2 Tbsp plain tomato paste
1/4 cup oat flour
Spices (1 tsp each): garlic powder, onion powder, Italian seasoning blend, oregano cumin, red pepper & 1/2 tsp sea salt
Directions:
Pre-heat oven to 375F. Combine all ingredients in a large bowl and mix well until all combined evenly.
Spray a loaf pan generously with nonstick spray (I personally line it with foil then spray it for easy clean up!)
Transfer meatloaf to the pan and spread evenly. Add additional 1 Tbsp of ketchup on top.
Bake at 375F for 60-70 minutes. A meat thermometer should read at least 160 degrees from the center of the loaf.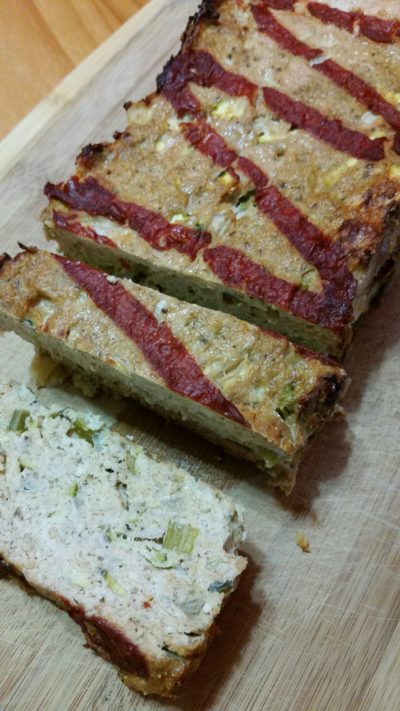 Nutrition Info:
Makes 8 servings (700g total weight)
Using extra lean 99/1 ground turkey: 98 calories/1.5g fat/6g carbs (1g fiber & 2g sugar) 15g protein
Using lean 93/7 ground turkey: 112 calories/5g fat/6g carbs (1g fiber & 2g sugar) 14g protein