A healthy dessert option that is great for those holiday parties or just for a sweet treat without the guilt! These use healthy substitutions such as all natural peanut butter & all natural baking sweetener Stevia. They also contain a secret punch of protein…!
For an even lighter calorie option, just drizzle the chocolate over the truffles (as shown below). I did both as to have both a "naughty and nice" option 😉
They taste just like the "real thing", I swear! 🙂
Ingredients: (makes 14 truffles)
150g (about 1/3 cup) all natural (creamy) peanut butter
2 scoops (70g) vanilla protein powder
1/3 cup baking stevia
Chocolate coating:
85g (6 tbsp) milk chocolate chips
7g (1/2 Tbsp) coconut oil
Directions:
Mix PB, protein powder & stevia in a bowl. Knead with your hands into a large ball; you want it cookie dough consistency. If it is too dry & crumbling too much, add a tsp of water at a time until it sticks together. Chill in the fridge for at least 15 min.
Once chilled, take the dough and form into small balls (I measured mine at 16g each). Place on sprayed cookie spray & place in freezer for at least an hour. This ensures that they don't fall apart when you put the melted chocolate on them.
When its time, microwave the oil & chocolate chips until melted (can also melt in a saucepan on the stove top). Be careful to not overheat it! I only did 15 seconds in the microwave then kept stirring it until it was all liquid. Less time is always better!
Drizzle the chocolate over the PB balls or drop the balls into the chocolate (I had mine in a Pyrex measuring cup) & cover completely. Place back on the baking sheet & add sprinkles if desired. Freeze for several hours to have them set completely. Keep in the fridge until you are ready to enjoy them! Makes approximately 14 truffles.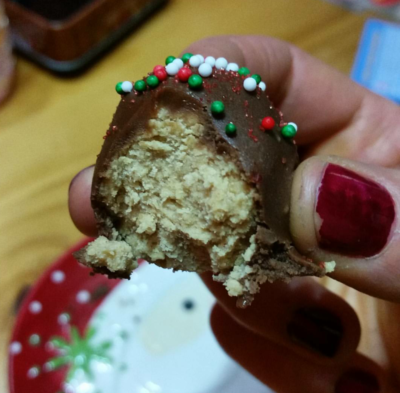 Nutrition Facts: (for completely dipped truffles)
For 1 truffle:
116 cals/6.5g carbs (1.2g fiber & 4g sugar) 6g protein/8g fat