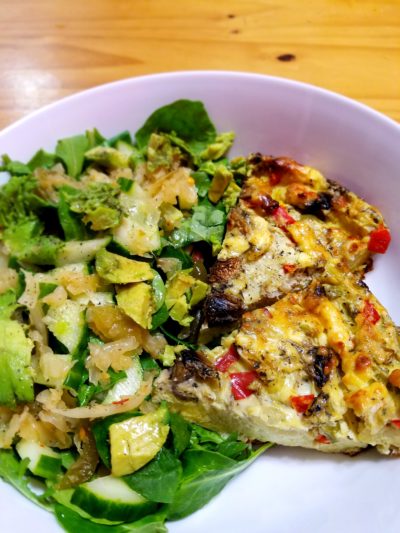 This baked egg dish is super simple to make and ideal for any meal of the day! Enjoy as a savory breakfast or light dinner like I prefer. The flavors of the veggies and spices really give this crust-less quiche a great flavor! Feel free to change up the veggies if desired; chopped frozen spinach or zucchini would be a nice addition!
Ingredients:
6 whole eggs (free range, cage free, organic)
4 egg whites
1/2 cup (110g) Daisy 4% cottage cheese
3/4 cup unsweetened almond milk
1/4 cup diced red pepper
1/4 cup diced white or red onion
1/4 cup diced mushrooms
2 Tbsp chopped olives (green or kalamata)
1/4 cup (28g) crumbled feta cheese
1/2 Tbsp minced garlic
1-2 tsp Herbs de Provence (marjoram, oregano, thyme)
1/2 tsp rosemary
1/2 tsp black pepper
1/2 tsp Pink Himalayan or Grey Celtic sea salt
Directions:
Pre-heat oven to 375F.
In a large bowl, combine the eggs, egg whites, cottage cheese and milk. Whisk well together (or use hand mixer). Add diced veggies & spices; whisk again and blend well.
Pour into sprayed or oiled large Pyrex dish (circular 9 inch or 8×8 square). Sprinkle feta cheese evenly on top.
Bake at 375F for 35-40 minutes. It will rise a lot but once will lower to normal thickness once cooled.
My favorite way to enjoy is with a side of greens and topped with avocado!
Nutrition Facts:
For entire recipe:
770 cals
73g Protein
16g Carbs (2g fiber)
50g Fat