SUPER easy and fast recipe that I can make ahead of time during my Sunday Funday food prep. I like to eat as fresh and unprocessed as possible. Frozen lean turkey burgers are great and convenient; however, they have higher sodium levels because of the packaging. When I make these, I like to add grated zucchini instead of bread crumbs or oats because 1) it is an extra way to get greens into my daily diet and 2) keeps my burger lower in carbohydrates as well. That way, I can have a few sweet potato fries on the side if I wish…!
Ingredients:
1 20oz package of lean ground turkey meat (extra lean is even better)
1 medium zucchini, finely grated
Lots of spices! Amount and mix can be up to you.
Optional: oat flour (probably about 1/4 cup)*
I used 1 tsp of each:
Mrs. Dash Salt-Free Table Blend
Mrs. Dash Salt-Free Onion and Herb
McCormick Salt-Free Garlic Pepper
Garlic Powder
*The turkey/zucchini mix can be a little wet, so feel free to add oat flour (or whole wheat breadcrumbs, etc) to "soak up" the mix a little bit. Totally up to you, I make mine without and holds together just as well!
Combine your ground turkey, grated zucchini, and spices into a large bowl. Mix together thoroughly until all the zucchini is mixed in.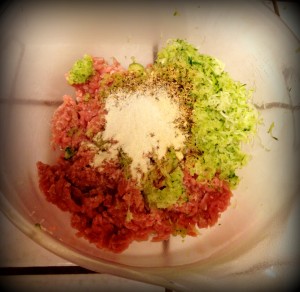 Take a handful of the mixture and form into a patty. The desired size is up to you. I try to keep my protein sources about 3-4oz in size, so my batch made 8 that were on were on the "smaller" side. *** Make sure you press out as much excess water (from the zucchini) as you can from your patties before grilling; the zucchini holds lots of water.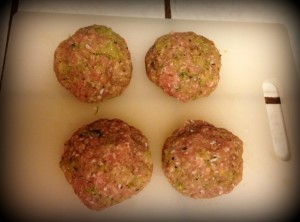 Grill on your stove top in a pan ( I used a flat griddle) or of course an outside grill would work. Cook for about 3-4 minutes depending on size and then flip. Grill until the meat is browned and no pink!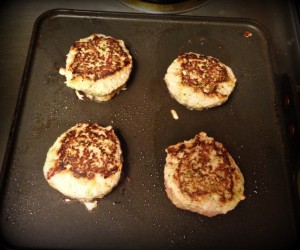 Enjoy for an easy lunch or dinner with a side of green veggies ( I had mine with parmesan asparagus), side salad, or a treat like homemade sweet potato fries 🙂