Looking for a healthier lasagna recipe? This is for you!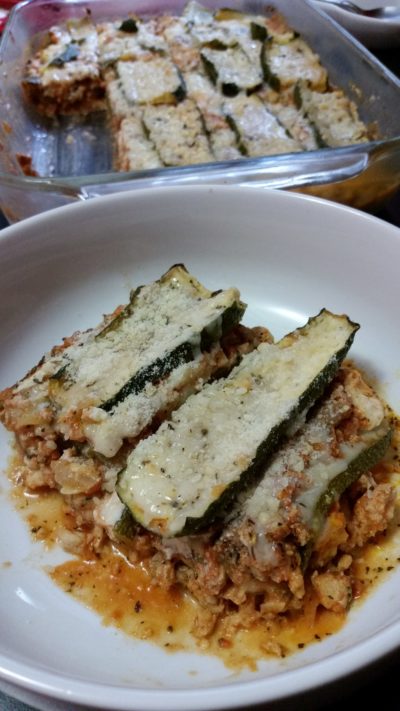 Enjoy all of the flavors but without the heavy calories! This "light" version of lasagna uses sliced zucchini in place of regular pasta noodles! Other healthy substitutions were used such as having extra lean ground turkey/chicken in place of ground beef and a lighter amount of reduced fat/fat free cheese. Plus, you will be getting in a few servings of vegetables! But not worry, this lasagna has SO much flavor you won't be able to tell it's "healthy" ! 🙂
This makes great leftovers and freezes well too!
Ingredients:
1 16oz package of all natural extra lean (97/3 or 99/1) ground chicken or turkey
1 Tbsp minced garlic
6oz sliced fresh mushrooms
1/2 cup finely chopped white or yellow onion
1 14oz can plain tomato sauce (preferably low-sodium)
1/4 cup fresh basil & parsley ( 2 tsp each dried)
1/2 Tbsp oregano
1 tsp garlic powder
Salt and Pepper to taste
Red pepper flakes (optional)
4 medium zucchinis, thinly sliced lengthwise
8oz low fat Ricotta cheese
6oz low fat cottage cheese
2/3 cup (2.5oz) Fat Free mozzarella (can sub reduced fat)
1/4 cup grated Parmesan cheese
1 egg white
Instructions:
Preheat oven to 375 degrees F.
Slice zucchini lengthwise about 1/4 inch thick and approximately 4-6 inches long. Place sliced zucchini on large baking sheet coated with non stick cooking spray. Sprinkle with salt and roast in the oven for 15-20 minutes to help dry out the zucchini a bit (don't skip this step!)
While the zucchini noodles are roasting, you can make the meat sauce. In a large pan, combine garlic, onions, and peppers with a sprinkle of olive oil and cook a few minutes until onions become translucent and garlic is fragrant; stir occasionally so that you don't burn it. Add in ground turkey/chicken and cook until no longer pink. Add in tomato sauce and spices. Turn up the heat to medium for a few minutes, then reduce heat to low and simmer 25 to 30 minutes to let the sauce thicken up. Remove from heat to cool.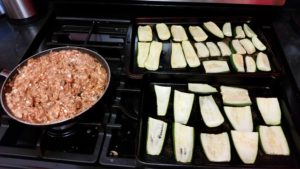 In a medium bowl, combine egg white, ricotta, cottage cheese and 1/8 cup of Parmesan & a little garlic powder. Add in 1/2 cup of the meat sauce and mix well.
To assemble lasagna, spread 1/2 of the turkey meat sauce into the bottom of a 9×13 inch baking pan coated with nonstick cooking spray. Place zucchini slices evenly over meat sauce, spread on 1/2 of the ricotta mixture, then sprinkle 1/2 of the mozzarella on. Repeat layers again starting with the meat sauce, zucchini slices and ricotta mixture and finishing with mozzarella.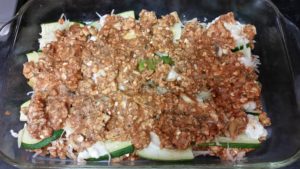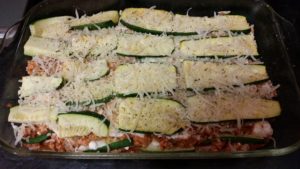 Cover with foil and bake for 30 min at 375F. Remove foil and bake for 15 minute longer uncovered.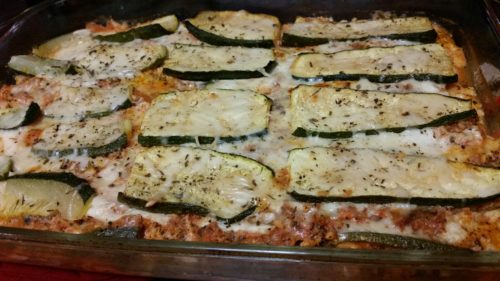 The finished product 🙂 Makes 8 large delicious servings!
Nutrition Info:
1 serving (using above ingredients & extra lean ground chicken):
110 calories/7g Carbs (1g fiber & 4g sugar) 3g Fat/16g Protein!