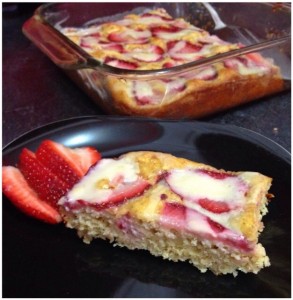 If you are looking for a lightened-up version of a typical pound cake,  you've found the recipe!
This Lemon Strawberry Cake is a perfect light dessert, afternoon snack, or heck…it's even healthy enough for breakfast!! 😉 A typical cake recipes calls for white flour, sugar, and butter…not a whole lot of nutrients there! This cake has added protein, no refined sugars or flours, and will fully satisfy your CAKE craving. It is more light and fluffy than rich or heavy. It would go perfect with fresh berries and/or with a cup of tea! 🙂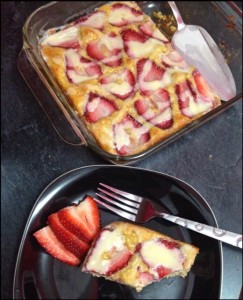 Ingredients:
3/4 cup oat flour
1/3 cup almond flour (or 1/4 cup raw almonds)
2/3 cup (2 scoops) vanilla whey/casein blend protein powder
1/4 cup stevia
1 tsp baking powder
1/2 tsp baking soda
few dashes of salt
2 whole eggs
1/2 cup nonfat plain Greek yogurt
1/3 cup unsweetened almond milk
1/4 cup fresh lemon juice
1 tsp honey (optional)
1 tsp vanilla extract
1 1/2 to 2 cups sliced strawberries
Glaze:
1/2 scoop vanilla protein powder
1-2 Tbsp stevia (depending on your preference)
1 tsp vanilla extract
1 tsp honey
1/8 cup unsweetened almond milk
1 Tbsp lemon juice
Directions:
Pre-heat the oven to 350F.
Blend your own oat and/or almond flour if you need to (I combine both my oats and almonds into the blender at the same time). In a large bowl, combine all your dry ingredients and mix together.
In a separate bowl, combine all the wet ingredients (except the strawberries) and mix well. Carefully pour your wet ingredients with your dry and stir together thoroughly.
Prepare a baking dish (I used a 9 x 9 Pyrex square dish, but a round casserole would work as well) with non-stick spray. Slowly pour the cake batter evenly into the dish.
Place the sliced strawberries in rows on top of the batter and press them down slightly.
*NOTE*: I haven't tried it this way yet, but you may ALSO try pouring just 1/2 the batter into the dish, THEN layering the strawberries before pouring the remainder of the batter on top. It would create a nice layer effect 😉 I will try it next time!
Bake at 350F for approximately 30 minutes. The sides should be browned and slightly pulled away from the sides, and a toothpick should come out clean from the center of the cake.
Let it cool for a few minutes while you prepare the (optional) glaze.
Mix all glaze ingredients in a small bowl or dish until blended. Feel free to add less or more liquid depending on the consistency you prefer.
Slowly pour the glaze over the cake…Pour it evenly or just have a random pattern…!
Serve warmed or chilled with a side of berries, whipped cream, or enjoy it by itself 🙂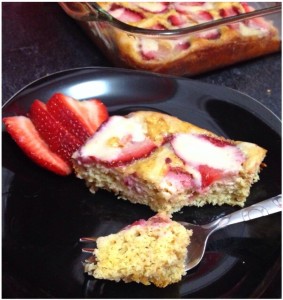 Nutrition: Makes 16 small servings
1 serving: 67 calories  6.5g carbs  2g fat  5.5g protein