This is an easy and quick breakfast meal to make ahead of time. It is great for an on-the-go meal or it is a great dish for sharing as well during a brunch get together. I like to take this to work and eat with a protein muffin for a mid-morning meal. You can basically use any veggies, cheese, and/or meat you would like, however I make this specific one most often!
Ingredients:
10 egg whites
2 whole eggs
Vegetables such as:
Frozen chopped spinach (can use fresh leaves but will have to use a lot more!)
Mushrooms
Onions
Bell Peppers
Broccoli
2 Tbsp milk of choice (I use unsweetened almond milk)
1/4 cup low fat cottage cheese (a secret ingredient to make it fluffy and extra tasty; can omit if need be)
Spices such as:
Minced garlic
Garlic Powder
Onion Powder
Black Pepper
Mrs. Dash Garlic+Herb and/or Mrs. Dash Table Blend Seasoning
Optional Add-Ins:
Salsa
Turkey Bacon
Cheese such as feta, cheddar jack, etc.
Crack all the eggs into a large mix bowl. Add the milk of choice and cottage cheese and mix well so the egg yolks are evenly distributed. Pour into a sprayed Pyrex or circular baking dish. Add in the veggies and spices and stir evenly.
Bake uncovered 375 F for 35-40 minutes, or until the top is nice and brown and the eggs are not runny.
Enjoy with a protein muffin, whole wheat toast or fruit for a balanced meal!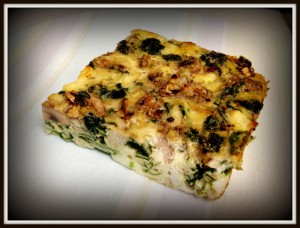 Makes 4 servings
1 serving: 80 calories   12g protein  2gcarbs  3g fat