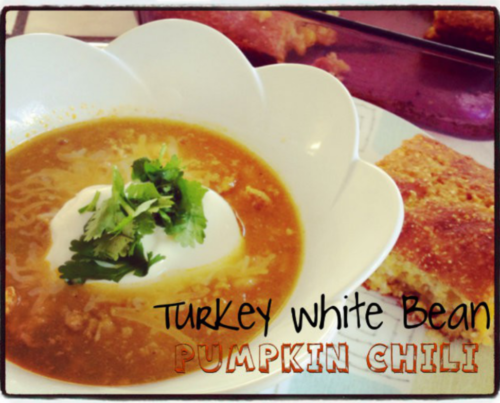 This super easy yet delicious chili recipe provides a new spin on the typical "chili" recipe. The pumpkin adds a nice consistency and great twist of flavor without overpowering the dish. Serve with my Healthy Cornbread (found in my e-cookbook!) for the ultimate guilt-free comfort food meal! 🙂
Ingredients:
1 package (20 oz) of extra lean (97-99%) ground turkey or chicken
1 can (15 oz) pumpkin puree (not pie mix)
1 can (15 oz) white beans, rinsed and drained
1 small can (4 oz) diced green chilies (I used fire-roasted)
1/2 green bell pepper, finely chopped
1 medium onion, finely chopped
2 cups low-sodium chicken broth
1/2 Tbsp minced garlic
1 tsp garlic powder
1 tsp red pepper flakes
1 tsp Mrs. Dash Chipotle seasoning (or other salt-free seasoning)
1/4 tsp black pepper
1/4 tsp cayenne pepper (more or less depending on your preference)
1 tsp cumin
Directions:
Crock Pot Method:
Chop all your veggies and place in your crockpot. Break up the ground meat into small pieces and add to the crockpot. Lastly, add all remaining ingredients and spices.
Cook on low for 4-6 hours or High for 2-3 hours. The meat will be cooked all the way through. Stir occasionally if possible.
Stove Top Method:
In a large pan, combine the chopped onion and package of ground turkey. On medium heat, cook the mixture until the meat is browned. Transfer the meat into a large pot (or crockpot). Over low heat, add your remaining ingredients (pumpkin, beans, chilies, chicken broth, spices and spices to the pot. Stir all ingredients together thoroughly. Keep the chili on low heat and cover. Stir occasionally every few minutes, but keep it covered and simmering for at least 30 minutes in order for all the flavors to mix 🙂
Once the chili is ready, get your toppings ready: plain greek yogurt (instead of sour cream), shredded cheese, and/or cilantro. Serve with my healthy cornbread and enjoy!
Nutrition Info: (For 10 cups)
1 cup: 160 calories   15g carbs  15g protein   4g fat