These pancakes are the perfect Fall breakfast…they are moist, full of flavor, and totally clean! This is using my basic protein pancake recipe and instructions (click here for the original and directions) but I substituted 1/3 the cottage cheese for canned pumpkin puree.
Ingredients:
1 cup dry old-fashioned oats
1 cup egg whites
2/3 cup nonfat cottage cheese
1/3 cup canned pumpkin mix
Cinnamon-nutmeg-allspice-stevia-vanilla extract: to taste
Blend everything BUT the oats in a blender until smooth. Slowly add in small measurements of the oats at a time, stopping to stir occasionally until the batter is fully mixed together.
Cook on the griddle until one side is bubbly…flip and cook until your liking!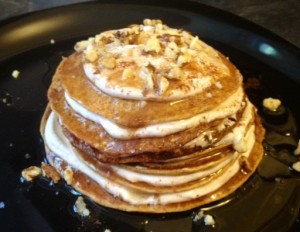 Toppings:
You could also use sugar-free/light maple syrup or light whipped cream!
They taste just as great on-the-go 🙂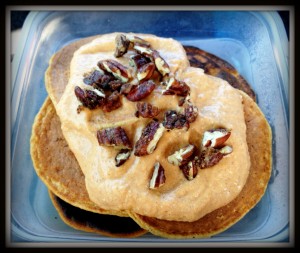 Enjoy!!!