It is mid-October and here in southern California it is finally cooling down, the air is getting crisper, and Fall is now in full swing! That means…anything with PUMPKIN is a must have! This recipe can be made with other ingredients in order to make a different flavor, but I thought I would share this one because it's festive and tastes like fall 🙂
This recipe is gluten-free, sugar-free, chock full of protein, complex carbohydrates, and lots of flavor. The pumpkin adds fiber and is full of anti-oxidants, and especially high in vitamins  A, C and E. These are easily portable, great for an on-the-go breakfast or a mid morning snack when you want something sweet 🙂 Make sure to keep these in a sealed container in the refrigerator because there are no preservatives!
Ingredients:
1 cup oat flour (take dry rolled oats and grind in a magic bullet/blender until it is a fine, flour consistency)
2 scoops protein powder (vanilla works best)
1/4 cup Stevia
1/2 tsp of baking powder
pinch of salt
2 tsp of cinnamon (you can use as much as you'd like for the spices)
1 tsp of nutmeg
1/2 tsp allspice
4 egg whites
1/3 cup nonfat greek yogurt
1/3 cup water
1 cup of canned pumpkin puree (NOT pumpkin pie mix)
OPTIONAL but recommended: raisins-dried cranberries-chopped pecans
Directions:
First grind your oats to make your oat flour. Then in a large mixing bowl, combine all dry ingredients. Then add all the wet ingredients (egg whites, yogurt, water, and pumpkin). Mix all together until it makes a nice smooth consistency.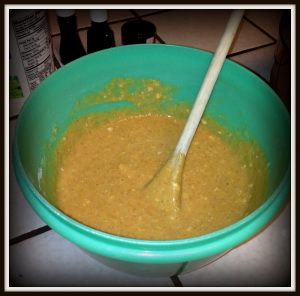 Next, take the batter and divide into muffin tins. This recipe technically make 12 muffins, but somehow I always end up with closer to 14 or 15…
I use silicone muffin liners…they are a lifesaver! Refer to my baking page for more information on where to buy them. Otherwise, spray the tins VERY well or else they will stick!
Bake at 350 F for about 25 minutes. They should be slightly brown on top, but will still be moist and delicious inside 🙂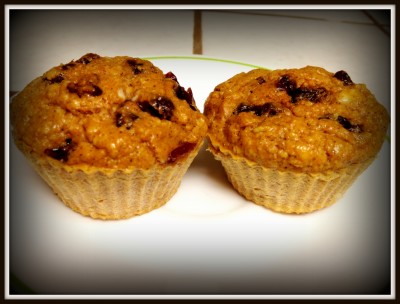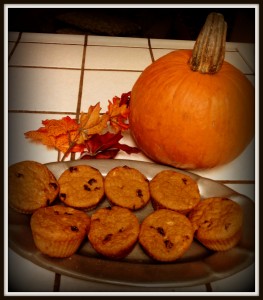 Nutrition Facts:
Recipe making 15 muffins without dried fruit or nuts:
1 muffin: 55 calories/.5g fat/5g carbs/6g protein!!!