Happy First Day of Fall!!! 🙂
Two flavors that are great together: Pumpkin + Coffee. Starbucks Pumpkin Spice Latte anyone?
I revamped the Starbucks signature fall drink by cutting out the heavy dairy, sugar, and syrups while adding protein! This healthy version is just as tasty and satisfying as the Starbucks version 😉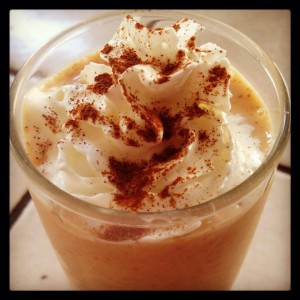 Ingredients:
1/2 to 3/4 cup unsweetened almond milk
1 cup ice
2 tsp instant coffee (or 1 cup cold brewed coffee and decrease almond milk)
1 scoop (vanilla) whey protein powder
2 tbsp pumpkin puree
1-2 tbsp Stevia (your preference)
heaping 1/2 tsp cinnamon
1/4 tsp nutmeg
dash of ginger + cloves
Optional: 1 tbsp sugar free maple syrup
*Tip*: Another idea is to brew 1 cup coffee and pour into an ice cube tray. Once the tray is frozen, use these "coffee-flavored" ice cubes in place of the (regular) ice (you could omit the instant coffee if you wanted). Easy and tasty!
Take all ingredients and blend well. It should turn into a icy yet creamy concoction! Feel free to enjoy with a bit of whipped cream as well 🙂