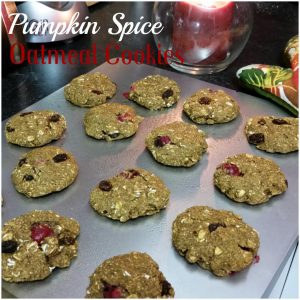 Pumpkin Spice Oatmeal Cookies
Makes 14
You will LOVE this cookies! They are super easy to make and you can't tell at all how healthy they are! 😉
I like to replace sugar with baking stevia, and use ground up oats (into a flour) instead of white flour. The pumpkin and egg give it enough moisture, so no need for oil or butter! Adding in protein powder adds to the soft-baked texture and of course, punches a secret dose of protein.They are soft with just enough outside crunch and full of fall flavors. I hope you enjoy!
Ingredients:
-1/2 cup old fashioned oats
-1/4 cup oat flour (ground up oats)
-1/2 cup baking stevia
-2 scoops Dymatize XT (whey/casein blend) protein powder
-2 Tbsp coconut flour
-1/2 tsp baking soda
-1/2 tsp baking powder
-2 tsp cinnamon
-1/2 tsp pumpkin pie spice and/or
-1/2 tsp each: nutmeg, ginger + allspice
-1 whole egg
-1/2 cup pumpkin puree
-2 Tbsp raisins
-1/4 cup fresh cranberries (or omit)
-1/2 tsp butter or vanilla extract
-1/2 tsp maple extract (optional but recommended)
Other add ins: Chocolate chips, crushed nuts, etc.
Mix all dry ingredients. Mix wet ingredients in a separate small bowl, then add to dry; mix well. It will be a sticky dough. I recommended chilling the dough for about 15-20 minutes at this point. Pre heat oven to 350F. (Lightly roll into balls and flatten (lightly wet hands if necessary, I used a spoon to portion out the dough).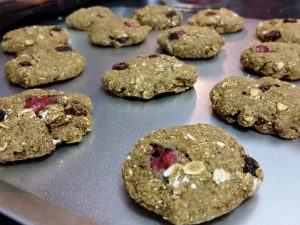 Bake at 350F for 10 minutes. Mine made 14 cookies.
Nutrition (for 1 cookie + ingredients above):
52 cals/1g fat/6.5g carbs (1.5g fiber, 1.5g sugar) 4.3g protein