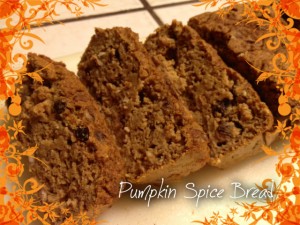 When I think of fall I think of…PUMPKIN!!!
Pumpkin is not only so versatile in it's uses (baking, soups, etc) and can be made savory or sweet, but it is also very rich in nutrients and vitamins! Plus, it is good for a fit diet; 1 cup is only a whopping 80 calories 😉
To be honest, I eat pumpkin all year round, but something about having in the fall makes it that much better 🙂 This bread has a rich, moist texture and a great taste with the mix of the spices. Adding cranberries, raisins, walnuts, and/or pecans really complements the bread as well. Hope you enjoy! 🙂
Ingredients:
1 cup oat flour (rolled oats ground into flour)
3 scoops vanilla whey protein powder
1/4 cup Stevia
1 tsp baking powder
dash of salt
2 tsp cinnamon
1/4 tsp nutmeg
1/4 tsp ginger
1  tsp vanilla extract
1/2 tsp maple extract (optional)
2/3 cup canned pumpkin puree (not pie mix)
1/3 cup plain nonfat Greek yogurt
1/2 cup egg whites
1/2 cup unsweetened almond milk
Mix ins: 2 tbsp dried cranberries/raisins, 2 tbsp crushed walnuts/pecans, etc.
Pre-heat your oven to 350F and coat your loaf pan with nonstick cooking spray.
Mix all your dry ingredients in a large bowl. Once combined, add your wet ingredients and mix well. Gently stir your "mix-ins" (nuts, fruit, etc).
Pour your batter evenly into your loaf pan. (At this point, you may lick the bowl ;))
Bake your bread at 350F for about 35-40 minutes. The sides should gently pull away from the sides and a toothpick should come out clean from the center.
Slice, serve, and enjoy! I love adding a bit of whipped cream on top and eating like a cake with my morning coffee 🙂
Nutrition Info: makes 12 slices
1 slice: 75 calories  7g carbs  7.5g protein  1.5g fat