Super easy and delicious soft baked cookies! Secretly packed with protein too! 🙂 These are gluten free & no sugar added as well. I like adding a bit of TruWhip (a healthy version of CoolWhip) or a bit of nut butter on top…!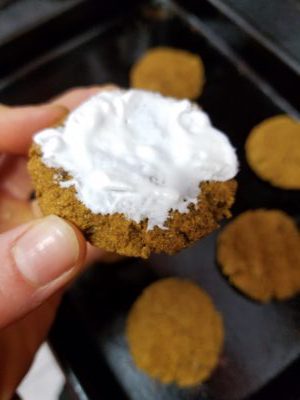 Ingredients: (Makes 8 cookies)
1 scoop vanilla or snickerdoodle protein powder (I prefer a whey/casein blend)
1/4 cup coconut flour
1 tsp pumpkin pie spice
1 tsp cinnamon
1/2 tsp baking powder
Dash sea salt
1/2 cup pumpkin purée
1/2 tsp vanilla extract
1 tsp coconut oil (softened at room temperature)
Optional: 1 Tbsp sugar free maple syrup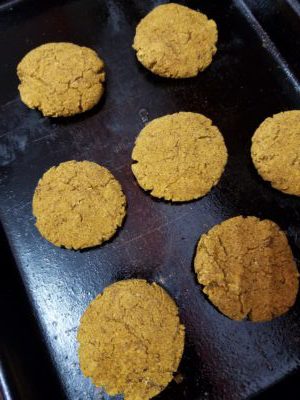 Pre-heat oven to 325F. In a large mixing bowl, add all dry ingredients and mix well. Add in all wet ingredients (except syrup). Combine and mix with spatula or your hands. It should be a soft cookie dough batter; not crumbly but it is able to form into a ball. Add the syrup depending on your batter texture and preference. Chill for 15 minutes in the fridge (optional) to make the dough more firm to form into cookies.
Scoop out approx tablespoon size, form into small balls and then flatten slightly. They will not rise during baking, so shape them how you would like! Place on greased baking sheet.
Bake at 325F for 10-12 minutes. They will appear soft on top but the bottom will be firm and slightly browned. Let them chill on the baking sheet out of the oven for 1-2 minutes then transfer. Store in a closed container in the fridge for up to a week (or you could probably freeze them too!)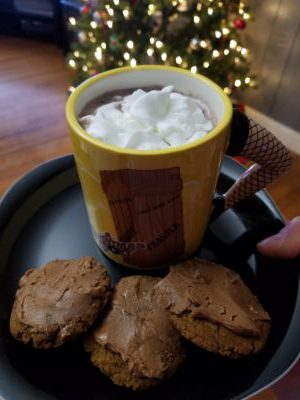 Nutrition Info: (Makes 8 cookies)
Facts for 1 cookie: 35 calories/1g Fat/4.5g Carbs (1g fiber & 1g sugar) 3.5g Protein