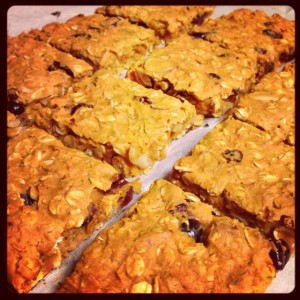 I love to eat pumpkin all year round!! It is such a versatile food that is high in nutrients and flavor! These were inspired by my Trail Mix Granola Bars, as I wanted to use Pumpkin instead of Banana. The experiment worked, and these are fabulous! Feel free to use whatever "mix-ins" you would prefer 🙂 These are a great replacement for store-bought granola bars that are processed with little to no nutritional value. These are made with all natural ingredients, packed with healthy carbs and a dose of protein…perfect for a snack or to add to your children's lunches 🙂
Ingredients: (Makes 12 bars)
1 cup oats
3 scoops vanilla whey protein powder
1/4 cup Stevia (or to taste)
1 tsp cinnamon
1/4 tsp nutmeg
1/3 cup canned pumpkin
1/3 cup unsweetened almond milk (or milk of choice)
1/4 cup honey
1 tsp vanilla OR maple extract
2 Tbsp dried cranberries or raisins
2 Tbsp chopped walnuts or pecans
Mix all the dry ingredients in a large bowl. Add the pumpkin, milk and honey to the mix. Stir in the wet ingredients thoroughly until smooth. It should be fairly sticky and hard to mix, but keep going! You'll want to end up with a big sticky ball of dough 🙂 Lastly, stir in your extra goodies (nuts and fruit) until evenly distributed.
Pre-heat oven to 350F. Spray a baking sheet with non-stick spray or line with parchment paper. Transfer the dough to the sheet. Using your hands or spatula, gently spread out the dough until it is a thin rectangular shape (about a 1/2 inch thick, depending on your preference). I find it works best to wet your fingers and use your hands, as it is pretty sticky.
Bake at 350 for 15 minutes. At this point, take the bars out of the oven and carefully cut into 12 pieces. Place the bars back in the oven for an additional 10 minutes (a total of 25 minutes) . This allows the outside to get nice and crunchy, yet soft in the middle 🙂 When they are done they will be slightly browned around the outside.
Makes 12 bars
Nutrition: 1 bar: 93 calories/13.5g carbs (7g sugar)/2g fat/6.5g protein