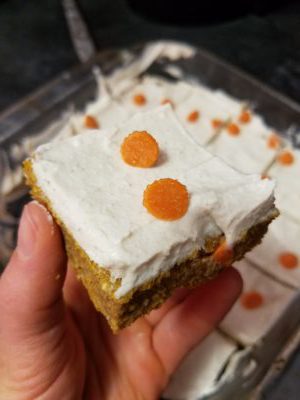 A delicious and easy recipe that is a great healthy dessert or snack option. I have made these for myself, and also doubled the recipe and took to a holiday party…they were a hit! Super soft and moist with just enough sweetness 🙂
Ingredients: (Makes 16 small bars)
3/4 cup oat flour
1/4 cup coconut flour
1 scoop (vanilla) protein powder (I have had the best success with a whey/casein blend)
1/2 cup baking stevia
1 tsp baking powder
1 tsp baking soda
1 whole egg
1 Tbsp Agave Five (sub sugar free syrup or honey)
1/2 cup unsweetened almond/cashew milk
1 tsp vanilla extract
1 tsp maple or pumpkin spice extract
1/2 Tbsp cinnamon
1/2 tsp each: nutmeg, ginger, cloves or allspice (or use 1.5 tsp pumpkin pie spice)
Frosting:
1/4 cup fat free cream cheese (softened)
1/4 cup nonfat plain Greek yogurt
1/4 cup baking stevia
1 Tbsp coconut flour
1/2 tsp vanilla extract
Optional cinnamon (or sprinkle on top) and 1-2 Tbsp pumpkin pie baking chips
Pre-heat oven to 350F. In a large bowl, combine all dry ingredients. Add wet ingredients and mix well. It should be a fairly thick batter.
Pour into a greased Pyrex dish (I use a 8×8 square) and spread evenly. Bake at 350F for approximately 25-30 minutes, or until a toothpick pulls clean from the center.
For the Frosting: Mix all ingredients together well by hand or with a hand mixer. Once the bars are completely cooled, evenly spread the frosting over the bars. Sprinkle with optional cinnamon and chips. Store covered in fridge for a week.
Nutrition Info: (Makes 16 bars)
1 bar: 50 calories/4g Protein/6g Carbs (1.5g fiber & 1g sugar) 1g Fat