This is AMAZING! This not only satisfies my sweet tooth but it is LOW CARB and FULL of protein to keep you full and satisfied. The secret ingredient? Cottage cheese! Yes, I know what you're thinking…but don't worry, you won't taste it! The cottage cheese makes it thick and creamy!
This is a great "treat" to have as an evening/night-time snack; the cottage cheese is full of casein protein. Casein is a very slow digested (milk) protein (versus whey protein, which is absorbed very rapidly). Consuming casein protein at night will help fuel and rebuild your muscles as you sleep…making you stronger, fitter, and healthier 🙂
If you really want/need to, you may substitute plain greek yogurt for the cottage cheese. I have tried it with both, and honestly prefer the creaminess and texture of the cottage cheese!
There are countless "flavors" that you could come up with; here is the "base" recipe, then you may add your fixings! 🙂
Protein Icecream Base: (One serving)
1/2 cup non/low fat cottage cheese

1/2 scoop protein powder (I use whey or casein)
1 tbsp Stevia (this is up to you-you may use more or less)
Splash (about 1-2 tbsp?) of milk of choice (I only use unsweetened almond milk)
Optional (but highly recommended): 1/4 tsp guar gum (adds thickness and creaminess)
Step 1: Place ingredients into your blender/magic bullet as ordered above (cottage cheese first…) You may add your extra "flavors" after.
*Note: Add your liquid (almond milk) last! It is not really for taste; it is just for the ingredients to blend together. Start slow when pouring…you want to keep your batter as thick as possible. Use just enough to get the ingredients all mixed 🙂
Step 2: Blend…blend…blend!!! I throw everything in my magic bullet until it is a smooth consistency (no "chunks" from the cottage cheese).
Step 3: Transfer to a bowl/mug/anything you want. At this point it will be a "pudding" consistency. If you have NO patience or prefer pudding more than ice cream, feel free to indulge immediately!! If not, proceed to Step 4.
Step 4: Place your pudding/soon to be ice cream into the freezer…covered or uncovered (it doesn't matter much to me)
Step 5: Test your patience! The longer you wait, the more your pudding will  turn to ice cream.
At about 30 minutes: Soft Serve consistency
60 minutes: Frozen and more "ice cream" like
The choice is yours!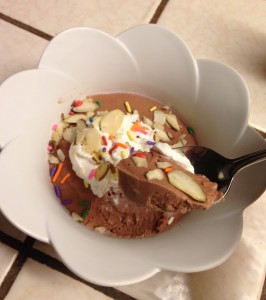 There are SO many mix-ins/flavors you could do…get creative and I will keep posting more that I come up with as well!
Some of my favorites so far:
Cocoa Powder

PB2/peanut flour
Peanut butter
Sugar free chocolate/caramel/strawberry syrup
Fresh/frozen berries
Sugar free banana/cheesecake dry pudding mix
In moderation with these:
Whipped cream
Sprinkles
Chocolate chips