Go. Make. These. Now…!
Such a healthy treat compared to the Reese's candy bar cups!
Super high in protein, healthy fats, and completely satisfying 🙂
Ingredients: Makes 4 cups
1 scoop protein powder (vanilla or chocolate)
1 tbsp unsweetened cocoa powder
1-2 tbsp baking Stevia (I used two because the cocoa is pretty bitter)
3-4 Tbsp unsweetened almond milk/water
2 tbsp peanut butter
-Combine the first 4 ingredients and add the milk 1 Tbsp at a time until it turns into a thick brownie batter consistency.
-Pour about 1/2 of the batter into your silicone liners
-Place approx 1/2 Tbsp of Peanut Butter into each cup.
-Pour the remaining batter on top.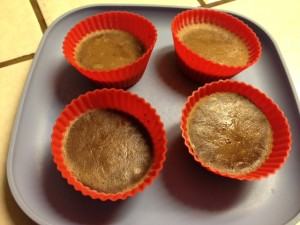 Freeze for a GOOD 1-2 hours, until it is completely solid. Let it set at room temp for a min or two, and then ENJOY!!! It can get a little messy if you eat them with your hands, so feel free to eat them with a spoon out of the liner.