This cheesecake is super healthy but tastes just as good as the real thing! Using healthier ingredients and substitutions, this dessert is low in fat & calories but loaded with protein. And have I mentioned it is delicious?? It is a great healthy dessert option that is very "macro-friendly". This is not my original recipe  and there are a multiple versions to make this. But after making this several times, this is the version I have found that works the best. This is only the "base recipe" and you may definitely get creative & make different flavors by changing the protein powder flavor or putting in additions like chocolate chips, nuts, etc. There are tons of options! So you really can "Have your Cake and Eat it too!" 🙂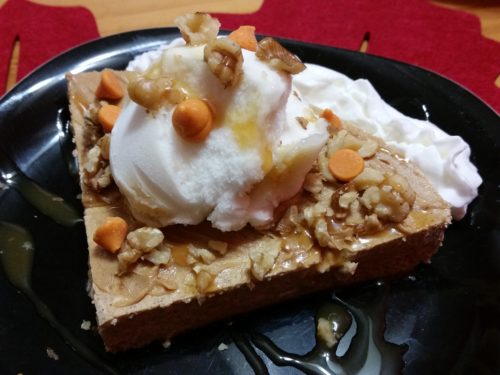 Pictured: Pumpkin Cheesecake with walnuts , pumpkin spice chips, Arctic Zero icecream and whipped cream
Ingredients:
8oz Fat Free Cream cheese (room temperature)
8oz Fat Free Greek Yogurt (may use low-fat but nutrition facts will change)
1 whole egg
1 egg white
1 tsp vanilla extract
1 serving (30g) protein powder (I use a vanilla whey/casein blend)
2/3 cup Baking Stevia
Pumpkin Spice Cheesecake: Add approx 1/2 cup plain pumpkin puree & reduce Greek yogurt to 6oz. Add:
1 tsp cinnamon, 1/2 tsp nutmeg, ginger, and 1/4 tsp allspice. Optional 1/2 tsp maple or pumpkin pie extract.
Pre-heat oven to 300F. In a large bowl add all wet ingredients. Make sure your cream cheese is softened/at room temperature (as this will make mixing SO much easier and prevent the batter from clumping). Use a hand mixer and blend all wet ingredients.
Add in dry ingredients and using the hand mixer again, mix well on the lowest speed setting. Make sure to not over mix as this will lead to cracking in your cake (still tastes good but not as pretty!) Stir in any optional add-ins at this time.
Pour into a 8 inch (circular glass) Pyrex dish and spread evenly. Bake at 300F for 30 minutes. Then lower to 250F and bake for an additional 20-30 minutes. Check at 20 minutes; the cake should be solid and the sides slightly browned and pulling away from the dish. Let it cool completely (preferably overnight but at least 4-6 hours) in the fridge before enjoying.
Makes 8 slices
Nutrition Info: (For 1 slice & no additional add-ins or ingredients)
70 calories-1.5g Fat-4.5g Carbs (1g sugar) 11g Protein