These bars are so deliciously and insanely healthy for you! They are dense like a cookie bar but still has an overall soft texture. It has a great peanut butter flavor and very low in sugar! They taste great with more PB on top 😉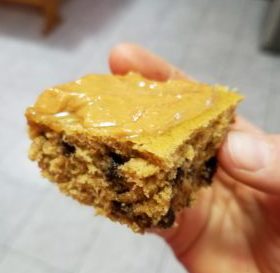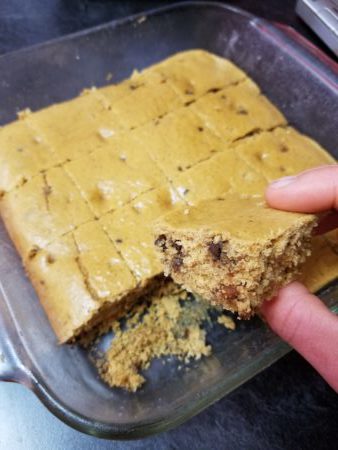 Ingredients:
½ cup (40g) oat flour (ground out oats)
1 scoop (30g) (grass fed whey) vanilla protein powder
¼ cup PB2 Flour
½ tsp baking soda
½ tsp baking powder
1/3 cup Baking Stevia
¼ cup (60g) all natural peanut butter
2 whole eggs
1/3 cup unsweetened nut milk
2 Tbsp (15g) mini chocolate chips
Optional 1 tsp vanilla extract
Pre heat oven to 350F. Mix all dry ingredients together in a large bowl. Add wet ingredients and stir very well. It will be tough to mix but keep stirring!! You will end up with a thick dough like batter. Gently stir in chocolate chips.
Transfer with a spatula into a well sprayed Pyrex baking dish (square or circular; your preference) and spread evenly. Bake at 350F for 20 minutes.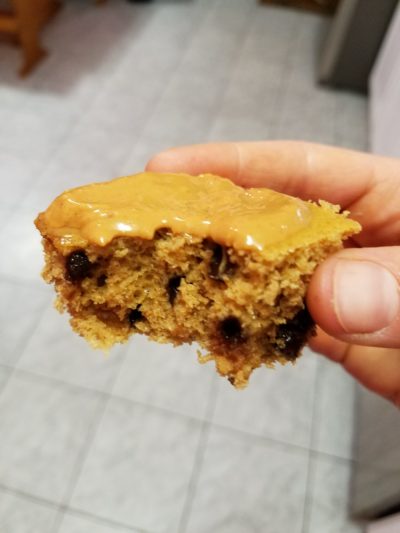 Makes 16 small bars.
Nutrition Info:
67g protein 64g carbs 12g fiber 12g sugar 54g fat: 1010 cals total
1 bar: 65 calories, 4g protein, 4g carbs (1g fiber &1g sugar) 3.5g fat