Chocolate + Peanut butter?? Only one of the best combinations ever! I really like this recipe because it doesn't call for any black beans (which you need a food processor for) yet they are still gooey and very rich! The yogurt provides a great texture and added protein as well. They have a great rich chocolate flavor and just the right amount of sweetness! You won't believe they're healthy!
Ingredients:
1/2 cup oat flour (ground rolled oats in blender until flour)
2/3 cup Stevia
1/3 cup cocoa powder
1 tsp baking powder
1/4 tsp salt
1 egg
3/4 cup plain nonfat Greek yogurt
1/3 cup milk of choice (I use unsweetened almond milk)*
1/2 cup peanut butter (preferably natural)
OPTIONAL: But highly recommended!
1/2 scoop chocolate protein powder (can't taste it I swear)
3-4 tbsp. peanut flour (PB2) Will give it a richer peanut taste
Mix all the wet ingredients (yogurt, egg, milk) together. Add dry ingredients (oats, stevia, cocoa, baking powder, salt) and mix until it is an even consistency. It should be a pretty thick batter. You can add a splash of milk if need be.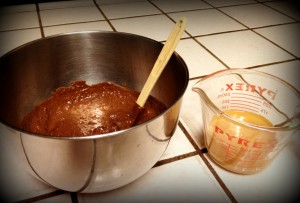 Microwave peanut butter for about 30 seconds, or until softened and a more liquid consistency. You can now either:
Pour the peanut butter into the batter and mix completely
Drizzle the peanut butter into a swirl on top once the batter is in the baking dish.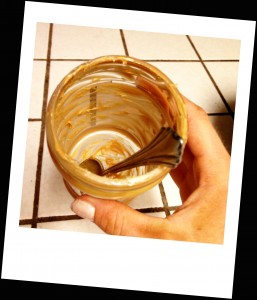 …I may or may not have licked the peanut butter jar after this…
This time, I chose option 2 🙂 But it is up to you! I used a 9 x 13 Pyrex but feel free to use any size you would like. Use non-stick spray on the dish before pouring in batter. Once you drizzle the peanut butter, take a knive and make a nice swirl for a nice marble effect.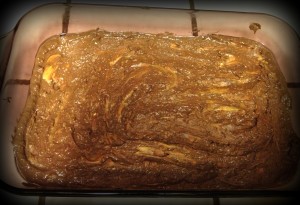 Bake at 350 F for about 25 minutes or until brownies are cooked through. I found that it is best to let them cool completely (I know, you must have patience!) before cutting and eating them.
I cut my brownies pretty small, so my batch made 24 treats 🙂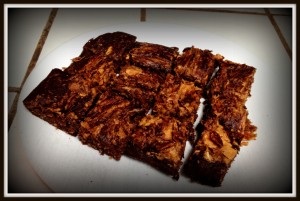 24 mini servings
1 serving: 50 calories    5g carbs   3g protein   3.5g fat