I am very happy to share about a new and amazing product…Outer Spice seasonings! The wonderful staff at Outer Spice contacted me and asked if I would like to try some samples, so of course I said yes!
I love cooking with natural spices and herbs and was so excited to try them. It is very hard to find seasonings that provide lots of flavor for foods without adding excess sodium, preservatives, etc. Mrs. Dash had been a staple in my pantry, but I ended up having to buy multiple bottles for different types of flavors. And who wants to have dozens of spices and herbs taking over their pantry?? It's a little cumbersome and a nuisance when trying to cook and bake.
Outer Spice sent me a bottle of each of their Original No-Salt and Low-Salt seasonings. Their seasonings are unique and a one of a kind blend…I have not used a blend before like it! It has a variety of spices and herbs, but not TOO much where it is overwhelming. I have been using it every day on almost everything; eggs, sandwiches and wraps, meat and seafood, vegetables and more!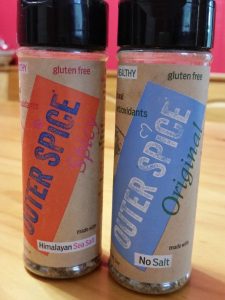 Some other awesome facts about Outer Spice:
It can be used as a spice blend, ingredient for your dishes, and a dry condiment. I have used it on baking chicken, and then also added it on top of my salads!
All of the blends are completely natural, MSG and preservative free and gluten free. All of the individual ingredients have specific nutrient properties and provide multiple benefits. You can enjoy your food AND improve your health at the same time!
Outer Spice offers four different blends: Original in No-Salt and Low-Salt, and Spicy in No-Salt and Low-Salt.
Their Low-Salt blends only use Himala Pink Sea Salt, which is the highest quality of salt to provide flavor and health benefits. Contrary to common belief, consuming sodium in moderate amounts, in the form of pink sea salt, IS beneficial for optimal health functioning.
The company is family owned and they pride themselves on hand picking the ingredients from around the world (!!) The spices are freshly ground and packaged in the same day to deliver the freshest and best product to their customers.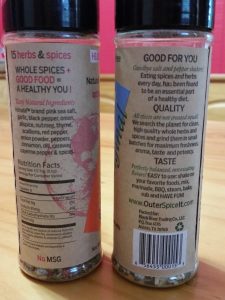 Their website www.outerspiceit.com contains a TON more information on their products, the health benefits for each individual spice/herb, their company and background, reviews, even recipes!! Outer Spice is available in Whole Foods stores and also online (easiest way to shop!)
I have been using Outer Spice every day and I am so happy to have been introduced to a great product and a fabulous company! Thank you Outer Spice!! 🙂