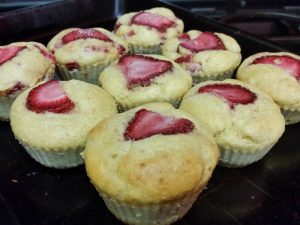 Are you ready for a brand new recipe?!
In the summer I always crave more fresh fruit (anyone else the same way??) I also was so graciously sent samples of Jamie Eason's LeanBody for Her protein powder a few months ago and have been experimenting baking with it! I love it because it is not only lactose-free, but made with all natural and clean ingredients ( it has no additives, preservatives, etc. !)
It tastes delicious! It is thicker than normal whey protein, but that what makes it so perfect for protein baked goods! I highly recommend trying it out!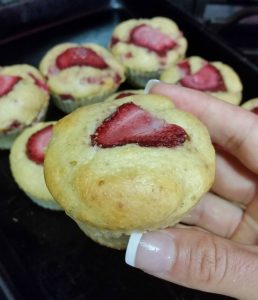 Ingredients:
1/2 cup oat flour (oats ground up in a blender)
1.5 scoops Jamie Eeason LeanBody for Her vanilla protein (or 2 scoops whey protein)
1/4 cup Baking Stevia
3 Tbsp coconut flour
1 tsp baking powder
1 whole egg
1 egg white
1/4 cup plain greek yogurt
1/4 cup unsweetened almond/cashew milk
Juice of 1/2 fresh orange (about 1/8 cup)
1.5 tsp orange extract
1 tsp orange peel
1/2 cup fresh strawberries, finely chopped
Note: I would reccommend using slightly less liquid if you use regular whey protein…add it one Tbsp at a time until it is a thick(er) batter where you can stir it, but not too runny 🙂
Pre-heat oven to 350F. Mix all dry ingredients together in a large bowl. Add wet ingredients (except strawberries) and mix together well. Carefully stir in chopped strawberries (or wait and drop/stir into the muffin tins).
Pour muffin batter into sprayed muffin tins or silicone muffin liners (my fave!) Add sliced strawberries on top if desired. Bake at 350F for approximately 25 minutes, or when the tops are golden brown and pull away from the sides.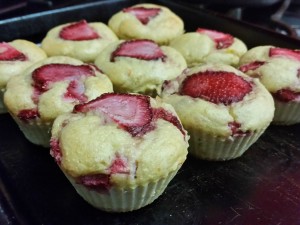 Makes 9 muffins (can double the recipe!)
Nutrition Facts:
1 muffin: 75 calories/8g carbs/2g fiber/2g sugar/7g protein/2g fat