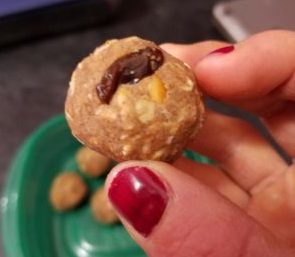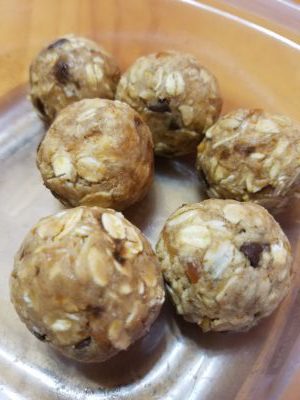 Great & easy snack idea for the whole family! These are super easy to make and you can change the "mix-ins" to add more variety! It only contains natural sweeteners (honey) a dose of healthy fats with the nut butter & flax, and a punch of protein with the protein powder! This is a great quick snack, pre or post workout fuel, or when you just want a little bite of something sweet! 😉
Ingredients:
40g (1/2 cup) dry oats
1 scoop (35g vanilla whey) protein powder
1 Tbsp ground flaxseed
1/2 tsp cinnamon
50g all natural nut butter
12g honey
1-2 Tbsp water
Optional: 1/2 tsp vanilla extract
Optional Add-Ins: 12g Chocolate chips, 12g raisins, unsweetened cranberries or shredded coconut, cinnamon
Cinnamon Raisin: Add 1/2 tsp cinnamon, 1/2 tsp vanilla & 12g raisins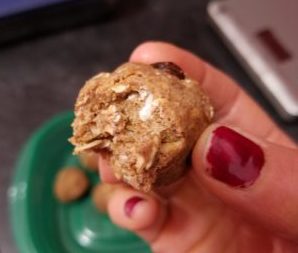 Banana Chocolate PB: Add 25g (about 1/4 of medium) mashed banana & 12g chocolate chips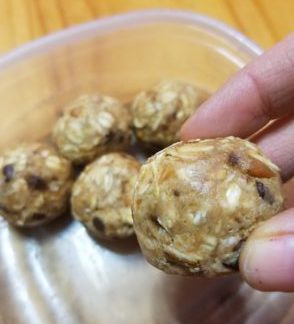 Directions:
Mix all dry ingredients in a small bowl. Add in remaining & stir well…eventually mixing with your hands into a ball of dough. If it is still too dry & not sticking together, add 1/2 Tbsp water until desired consistency.  The "dough" should all hold together but not be wet in your hands. Add the water slowly!
I measured mine out to 20g/bite. Store in an airtight container in the fridge (or freezer!)
Total approx. Cals/Macros for the entire recipe (using 12g raisins or chocolate chips)
690 cals: 63g Carbs/32g Fat/44g Protein
Notes: You most likely can use any type of protein powder (whey, vegan etc) but I have not experimented with anything besides what is listed above.