Mediterranean Quinoa Salad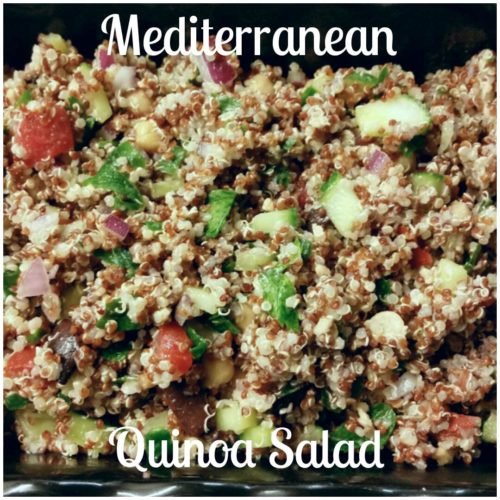 An easy yet delicious salad that can be enjoyed in several ways!
This salad is vegan, gluten, and dairy free while still providing lots of nutrients and flavor! Did you know that Quinoa is a grain but is also a complete protein source? It is a great plant-based source of protein.  Plus, the chickpeas & all the veggies provide fiber & vitamins and the olives & olive oil provide a serving of healthy fats.
This salad can be served cold or warm depending on your preference. A lean protein source such as chicken or shrimp is a great addition. It is delicious served over a bed of salad greens for a more voluminous meal! 🙂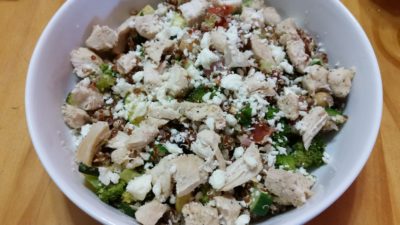 Ingredients:
2 cups cooked quinoa (white, red or mixed)
1 bunch flat parsley
3 medium tomatoes
½ large medium onion
1 English cucumber
¼ cup crushed garlic (or 4 fresh cloves)
2 Tbsp (extra virgin) olive oil
2 large lemons
1 & ½ cups garbanzo beans
½ cup sliced Kalamata olives
Sea Salt & Black Pepper (to taste)
Optional Ingredients:
Crumbled Feta cheese
Lean protein source such as chicken breast or shrimp
Directions: Cook quinoa as directed. Finely chop all the veggies and add to the quinoa. Rinse the garbanzo beans and add. Add the oil, juice from the lemons, olives, and S & P and mix very well. Let stand for at least 1-2 hours before serving.