Great combination of flavors…I would consider these more of a "coffee cake bar" than a protein bar. Super moist and would go great with a maple yogurt sauce on top 🙂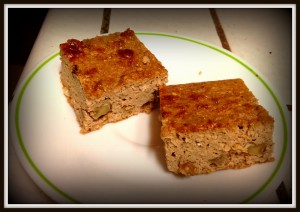 Ingredients:
2/3 cup oat flour
3 scoops vanilla whey protein powder
1/3 cup Stevia
1 tsp baking powder
2-3 tsp of cinnamon (I like a lot…it really goes well with the maple)
1/2 tsp nutmeg
3 egg whites
1/2 cup milk of choice (I use unsweetened almond milk)
1/2 cup unsweetened applesauce OR nonfat greek yogurt
1/2 tsp vanilla extract
2 tsp maple extract (I know it sounds obvious, but don't omit this. This is what gives the bars the really good maple flavor)
1/2 cup walnuts, finely chopped
Combine your dry ingredients and mix thoroughly. Combine wet ingredients in another small bowl and mix; combine wet and dry ingredients together. Stir in walnuts once batter is mixed and smooth.
Heat the oven to 350F, and take a Pyrex (I used a 9 x 9) and spray well with non-stick spray. Pour the mix into the Pyrex; dust with cinnamon on top if you wish.
Bake uncovered for 20-25 minutes at 350F. Test by placing a toothpick in the middle of the dish, and it should come out clean; the  bars will be slightly brown on top.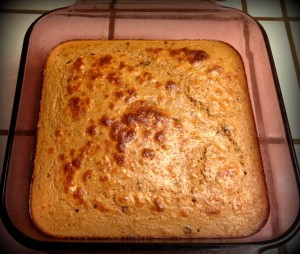 Makes 16 bars-great breakfast option or snack on the go.
Maple-yogurt Sauce: (can be doubled, tripled, etc)
1 tbsp nonfat greek yogurt
1 tbsp light maple syrup ( I use Walden Farms No calorie Syrup)
Dash of cinnamon
Optional: Stevia/nutmeg (A few dashes maybe?)
Mix together and top over the maple bars. Can also be used on top of pancakes, etc. or even just eaten by itself!