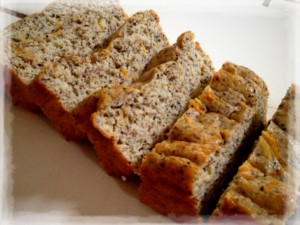 Low carb, high protein, and gluten-free "fit bread"! I have made this twice in the last week…my family loves it!
Ingredients:
1/4 cup almond flour*

1/4 cup ground flax seed*

1/2 cup vanilla (whey) protein powder

1 tbsp baking powder

2-3 tbsp Stevia

1 tbsp poppyseeds (more if you'd like)

1.5 tbsp fresh lemon juice**

1tbsp (+ 1/2 tbsp for topping) lemon zest**

1.5 tsp vanilla extract

1/2 cup egg whites

2/3 cup nonfat plain greek yogurt
~1/4 cup liquid (I use unsweetened almond milk)
*You could sub oat flour here if you didn't have almond/flaxseed meal, but that will change the nutritional info and the taste. I haven't tried it, so I can't tell you how it would taste…!
**I think these amounts gave a great lemon flavor, but feel free to taste-test the batter and see what you think. You might want a bit more or less 🙂
Mix all the dry ingredients together, and then add the wet ingredients until it is a smooth batter. Pour into your well-sprayed loaf pan (or silicone loaf…or muffin tins!) Sprinkle the remaining 1/2 tbsp lemon zest on top.
Bake at 350F for about 35 minutes, or until the edges are browned and a toothpick comes out clean. (If you make these into muffins, decrease the baking time by a few minutes).
Enjoy these as a breakfast "treat" or make it into a dessert…I had it with greek yogurt and some sliced strawberries…it was AMAZING! 🙂
Nutrition Info: Makes 10 slices
One slice: 65 calories-7g protein-2.5g carbs-3g fat (Yep, in a bread!)