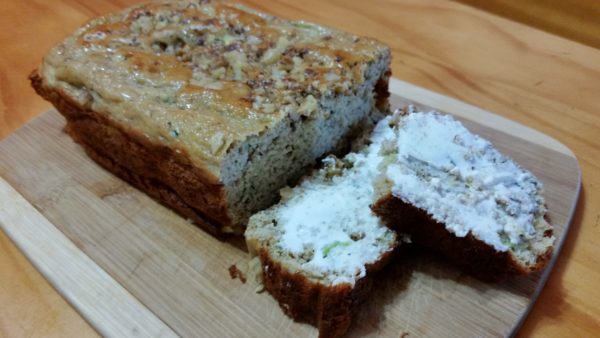 Looking for a healthy Zucchini bread recipe? You've GOT to try this one 🙂
This is chockful of nutrients AND flavor! Super moist with the right amount of sweetness. Each ingredient has a specific nutrients + health benefits, that means you can enjoy your food AND fuel your body!  I prefer the texture of the raisins and walnuts, but feel free to omit or change them! I prefer to eat it cold with fat free cream cheese 🙂
RECIPE:
Ingredients:
1/2 cup oat flour
1/4 cup coconut flour
3 scoops (90g) vanilla whey & casein blend protein powder
1/2 cup baking stevia
1 tsp baking powder
1/2 tsp baking soda
1 Tbsp cinnamon
1 tsp nutmeg
1 tsp vanilla extract
1.5 cups grated zucchini (after excess water is squeezed out)
2 whole eggs
1 egg white
1/4 cup unsweetened applesauce
1/4 cup plain fat free Greek yogurt
1/4 cup unsweetened almond milk/liquid of choice
1/8 cup raisins
1/4 cup crushed walnuts
Directions:
Pre-heat oven to 350F.
Combine all dry ingredients in a large bowl.
Grate zucchini with a cheese grater and squeeze out as muh liquid as possible. Add wet ingredients (except zucchini) & mix well. Add the zucchini, and gently stir in raisins and 1/8 cup of walnuts.
Line loaf pan with foil (sprayed with nonstick spray) or generiously spray loaf pan.
Pour into loaf pan and sprinkle remaining walnuts on top.
Bake at 350F for 30 to 35 minutes. A toothpick should come out clean from the center and the sides will be slightly browned. Let it cool before removing from pan.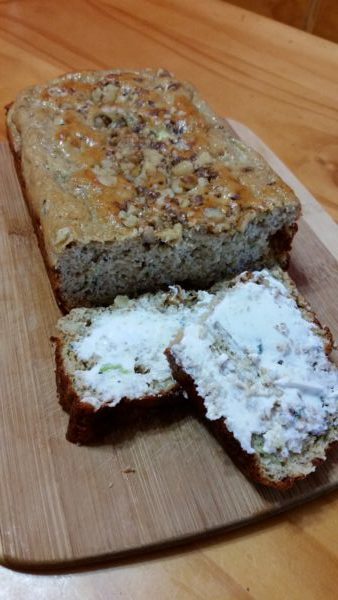 Nutrition Facts:
I weighed out my loaf & on average ( I have made this several times) the total weight is 650grams.
I divided it into 12 servings (approx 55g each)
Calories and Macros for 55 gram serving:
95 cals/8.5gCarbs (2g fiber-2.5g sugar) 8g Protein/3.5g Fat
Notes/Possible Substitutions:
My favorite protein powder to bake with is a whey/casein blend (not straight whey isolate). This prevents it from drying out!
Try using all Greek yogurt in place of applesauce (or vice versa; nutrition will change)
Use 1 whole egg/3 egg whites ( have not tried this though)
Omit/change the nuts + fruit