I can't get enough! Pumpkin anything and everything! 🙂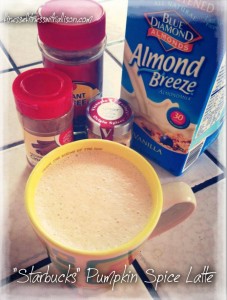 This is JUST as satisfying as the ever-popular Starbucks Pumpkin Latte, but without all the unhealthy fat and sugar! Since I don't have a frother, espresso maker, or anything "fancy", so this is the "easiest" way to make a latte from home!
Ingredients:
1 cup strong brewed coffee (divided)
1/2 cup unsweetened almond milk
2-3 tbsp pumpkin purée
1 tbsp stevia (to taste)
1/2 tsp cinnamon
few dashes of nutmeg and ginger
1/4 tsp vanilla extract
Optional: 1 scoop vanilla protein powder (I added it and couldn't taste it at all!)
Take a 1/2 cup of coffee and all the other ingredients and blend well (I used my magic bullet). It should be a "frothy" mix.
Pour over your remaining 1/2 cup of coffee. Sprinkle with cinnamon and/or whipped cream, and enjoy!! 
It's as simple as that! If you wanted, you may heat the milk, pumpkin, and spices in a saucepan for a few minutes to "simmer", and then blend. But I found when you add 1/2 of the hot coffee then blend, it creates the same great texture and flavor! Happy Fall 🙂