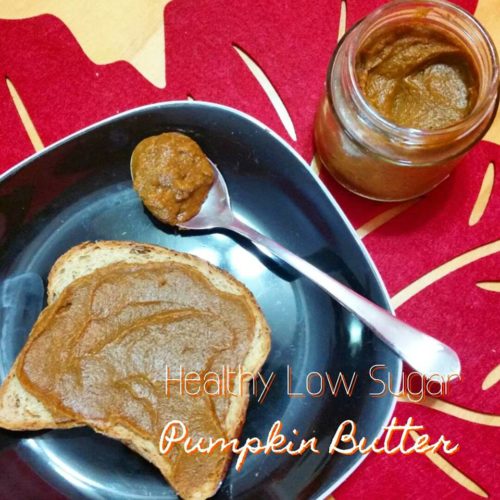 Fall is in the air! What better way to kick it off with a healthy pumpkin recipe! 🙂
Most all pre-made pumpkin/apple butters are high in sugar and highly processed. Making your own is actually quite simple and you can control the ingredients!
This is very low in sugar, low calorie, super easy to make, healthier & less expensive than buying it! And did I mention it's delicious?!☺😉👍
I used a liquid sweetener called Organic Agave Five by Madhava. It is a mix of organic agave, stevia & monk fruit. It is not as thick as regular agave/honey, but only has 5 cals per tsp, making it a great natural low sugar/cal substitute for regular sugar! 👌
If you prefer (or cannot find the Agave 5) feel free to substitute regular agave nectar, honey, or possible even maple syrup or brown rice syrup. Keep in mind the nutrition/calorie info will change.
This recipe can be modified based on your preference & ingredients available. Add less/more spice or sweetener…I think it tastes great the way it is! 😊
🎃Recipe:🎃
I cup (canned) pumpkin puree
1/4 cup Baking Stevia
2 Tbsp water
2 Tbsp Agave Five sweetener
1/2 tsp vanilla or maple extract
1/2 Tbsp cinnamon
1/4 tsp each: nutmeg, ginger, allspice
Optional: 1/4 tsp Pumpkin pie spice
Combine all ingredients in a sauce pan on medium low heat. Let it simmer, stirring occasionally to prevent any burning. Let it cook for anywhere from 5-10 minutes. Turn heat off & cover, letting the flavors blend for an additional few minutes. When it is completely cool, transfer to an airtight jar (this made 2 small jars.)
Store in the fridge for up to 2 weeks!
Nutrition for the WHOLE recipe (using the above ingredients):
113 calories, with 3g protein, 0g fat, 26g carbs, 7g fiber, & only 14g sugar! 😀