Healthy + Donuts…?! Those can't go together, right?? Oh YES they can!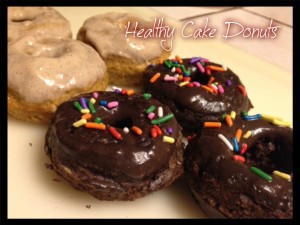 These cake donuts are not only good for you, they taste amazing! Moist and flavorful yet with a light and cake-y texture. A perfect morning "treat"!
You can find a donut pan at stores like Bed Bath and Beyond, Target, etc. My sister bought me a "mini" one so they are a perfect little snack size 😉
Ingredients: (Makes 6 "mini" donuts)
Optional: cocoa powder, canned pumpkin, applesauce, extracts, spices, etc. for whatever "flavor" you'd like!! 🙂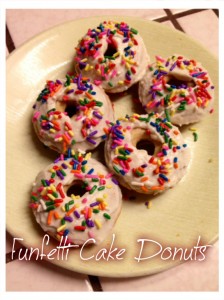 Mix all your ingredients in a small bowl. Grease/spray your donut pan very well, and pour your batter in evenly. Bake at 350F for 10 minutes.
Flavors:
Cake Batter: Add 1/2 tsp almond extract, 1/2 tsp butter extract (could use vanilla) and 1 tsp sprinkles 🙂
Chocolate Sprinkle: Add 1/2 tsp cocoa powder, 1/4 tsp butter or vanilla extract, and 1 tsp sprinkles
Pumpkin Spice: Add 1 tbsp canned pumpkin (and omit yogurt), 1/4 tsp cinnamon, dash of nutmeg and ginger
Apple Cinnamon: Add 1 tbsp unsweetened applesauce (omit yogurt), 1/4 tsp cinnamon, dash of nutmeg and ginger
"Glaze" Topping:
Mix: 1 tbsp stevia, 1 tbsp protein powder, and 1 tbsp unsweetened almond milk, and 1/4 tsp of whatever "flavor" you would like (cocoa powder, cinnamon, vanilla, etc). Dip your donuts in the glaze and top with sprinkles, coconut, etc. Get creative and have fun!!!! 🙂
Nutritional Info (you won't believe it!):
Whole recipe (6 minis):
272 calories
24.5 grams carbs
35g protein (!)
3.5g fat