Asparagus gets a bad rap! Not sure why, because I find it quite delicious! However, it can get kind of boring to make all the time. A little bit of spices and cheese can go a long way! It gives the asparagus a nice flavor without being overpowering.
Ingredients:
1 bunch of asparagus, rinsed and ends trimmed
2 tbsp grated Parmesan Cheese
Mrs. Dash Salt-Free Spices ( I used "Table Blend") to taste
Garlic Powder-to taste
Olive oil/Nonstick spray*
*I use the Misto Sprayer instead of non-stick spray, which allows me to put my oil into a pump bottle, and then spray for my pans, baking dishes etc. Ingenious!
Pre heat your stove with a pan while you trim the asparagus. Spray your pan or drizzle a tiny bit of oil to coat the pan.
Put your asparagus in the pan
Lightly spray the stalks
Add your choice of Mrs. Dash seasonings/garlic powder
Lightly spray AGAIN in order to for the spices to "coat" the asparagus
Grill for a few minutes until the asparagus starts to soften and seasonings brown a bit. Repeat the same steps using the 2 tbsp of Parmesan Cheese.
The asparagus will be fully cooked once the stalks are soft but not mushy, and the cheese and spices have made a nice browned coating.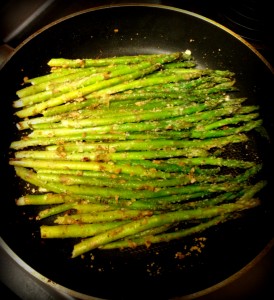 Enjoy as a side dish to any main dish, such as the coconut-almond tilapia or even a zucchini turkey burger.
Happy Eating!