Lots of spice and flavor in these pancakes! They are perfect for when you are craving something festive yet still healthy.
This makes 1 serving for me 🙂
Ingredients: (can be doubled/tripled, etc for larger batches)
1/3 cup dry oats
1/3 cup nonfat cottage cheese
1/3 cup egg whites
1 tsp ground ginger
2 tsp molasses
Few dashes of cinnamon and cloves
Stevia-to taste (I personally don't use any)
Mix all ingredients except oats and molasses in a blender or magic bullet. Stir in molasses and oats and blend again until smooth. Cook on the stove top like normal pancakes..flip when it's bubbly on one side.
I enjoyed mine with Walden Farms Maple Syrup and some light whipped cream. Such a treat!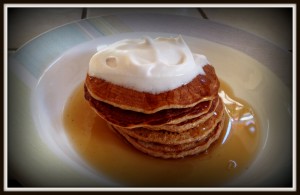 Nutrition:
(Using 1/3 cup servings):   230 calories    26g carbs    25g protein   2g fat