Soft and chewy amazing little cookies! These are sooooo easy to make as well!
Ingredients:
1 cup shredded, unsweetened coconut
1 tbsp flour of choice (I used coconut flour)
Heaping 1/2 cup of light coconut milk (canned-I found mine at Sprouts)
3 tbsp of sugar free maple syrup (or honey/agave)
1 tbsp Stevia
1/4 tsp coconut extract (or vanilla)
few dashes of salt
I buy the unsweetened coconut, coconut flour, AND coconut milk at Sprouts.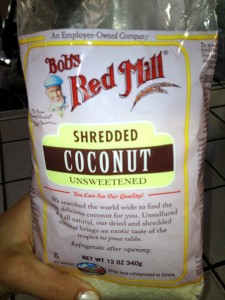 Easiest prep ever! Ready….mix all ingredients and then microwave for about 3 minutes. The "dough" should be sticky and firm enough to scoop into small balls.
Use a melon baller, spoon, or…? to make small balls. Place onto a sprayed/lined cookie sheet. I ended up using a spoon to scoop out the dough and roll by hand.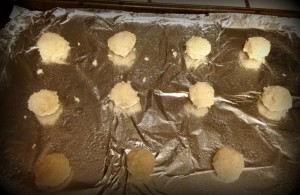 Bake at 350F for about 15-17 minutes. The macaroons should be slightly brown around the edges, but still chewy and moist in the middle!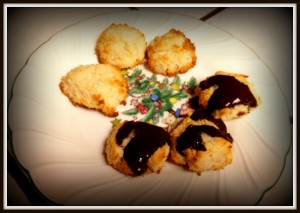 Optional: dip in chocolate or drizzle on top 🙂 Enjoy!
P.S. Each cookie is only 30 calories…!