One word: Amazing!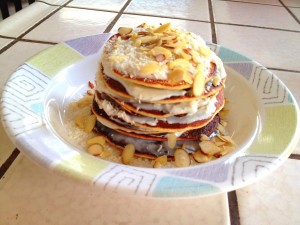 Ingredients: (can be doubled/tripled etc)
1/3 cup dry oats
1/3 cup nonfat cottage cheese
1/3 cup egg whites
1/2 tsp coconut extract
1/2 tsp almond extract
Optional: 1 tbsp unsweetened shredded coconut
Optional pancake "filling":
about 1/2 cup nonfat plain greek yogurt
1/4 tsp coconut extract
1/4 tsp almond extract
1/2 tbsp stevia
Blend all wet ingredients first together. Then stir in oats and blend thoroughly again. Cook on the stove top like you would for normal pancakes 🙂
I mixed the filling ingredients and put a thin layer in between each pancake. Feel free to top with unsweetened shredded coconut, sliced almonds, or both! 🙂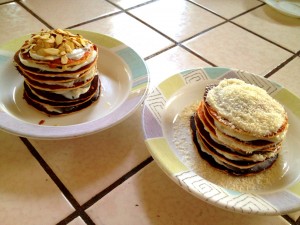 Using 1/3 cup measurements of the main ingredients comes out to be about:
200 calories, 25g protein and 25g carbs. 1 tbsp of coconut flakes is about 40 calories.
If you add the greek yogurt filling it will be about 50-75 more calories more.