I LOVE this recipe! This is a great combination of the coconut and almond-soft and chewy with great flavor. You won't believe that there is no oil or sugar…AND added protein 🙂
WARNING: These cookies are SO good, they might not make it to your family and friends to try! I made a batch and they were gone within mere days 🙂
Ingredients:
1/2 cup vanilla whey protein powder
1/4 cup + 2 tbsp of coconut flour (bulk at Sprouts)
1/2 cup Stevia
1 tsp baking powder
3 tbsp almond meal (Bulk bins at Sprouts)
3 tbsp unsweetened coconut flakes (I use Bob's Red Mill brand at Sprouts)
1/2 cup greek yogurt
2 eggs
1 egg white
1/2 tsp of EACH: Almond Extract and Coconut Extract*
*If you don't have one of the extracts, feel free to use 1 tsp total of the one you do have. But keep in mind, if you use omit the coconut extract and use 1 tsp of almond, the cookies will have a slightly more almond (than coconut) flavor.
Optional: Chocolate chips, dried cranberries…???
Mix all dry ingredients first until blended. Then add in wet ingredients and mix thoroughly. The batter should be very thick and not too wet. If it is, feel free to add more protein powder/almond meal/or coconut flour. AND you can also let the batter chill in the fridge for a few minutes so it thickens up. Once it is the right consistency, stir in your optional mix ins (I chose chocolate chips).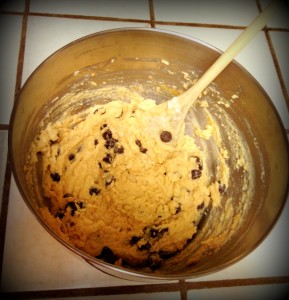 Drop the cookie dough in small balls evenly onto a well spray cookie sheet. Depending on your cookie size, it should make between 12 to even 20 cookies. This first sheet I made them a little too big…so the next batch I made them smaller to have more of them 🙂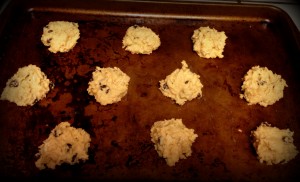 CONFESSION: I completely licked the batter bowl after this! Yes, it is that good!
Bake at 350F for about 10-15 minutes. Check them at 10 minutes…when they are done they should be brown around the edges and soft, but not doughy.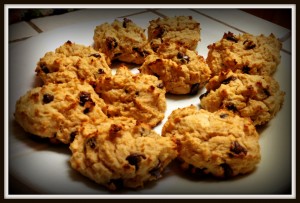 Try not to burn yourself when getting these cookies off the sheet and into your mouth! Hope you enjoy 🙂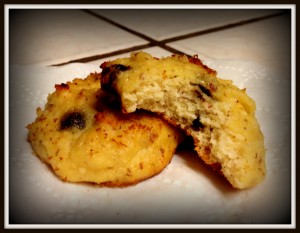 Nutrition Facts: (without including mix-ins like chocolate chips)
16 small(er) cookies:
1 cookie: 50 calories   2.6g carbs   1.6g fat   5.4g protein (!!!)