Can you tell…I love baking? And I love my sweets??? These cookies are easy, delicious, and above all healthy. Unlike most of my other recipes, these call for oil/butter, so this falls under the treat category for me, something that should be enjoyed in moderation 🙂 However, this is a GREAT alternative to a standard oatmeal raisin cookie recipe!
Ingredients:
1 cup old fashioned oats
1 cup oat flour
1/4 cup vanilla protein powder
1/2 cup Stevia
1 tsp baking powder
1/4 tsp salt
1 tsp cinnamon
2 tsp vanilla extract
1 egg
3 tbsp coconut oil or butter/margarine, softened
3 tbsp nonfat plain Greek yogurt
1/4 cup walnut pieces
1/3 cup raisins
Mix together all dry ingredients, then stir in wet ingredients until all mixed evenly. The batter should be pretty sticky and not too wet. Stir in evenly the raisins and walnut pieces.
Roll the batter into small balls and place on a sprayed cookie sheet. These cookies do not spread at all, so flat them out a bit with your hands/spoon before baking.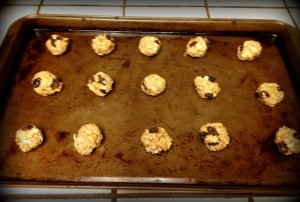 Bake at 350 F for about 10-12 minutes, depending on the size of your cookies. They should be not doughy and slightly brown on top. Keep in the fridge or even the freezer.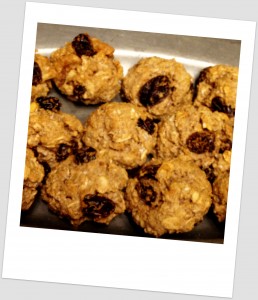 My batch made about 25 small cookies…a perfect 2-bite snack size 🙂 These cookies have a great taste and texture. However, since it is a healthy version, they will look more like puffs than cookies, and a little more crumbly than others 🙂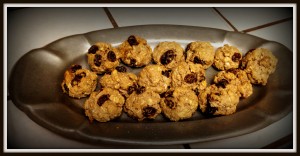 NOTE: I have not yet tried this recipe using ALL oil and omitting the greek yogurt. I am curious to see what the consistency would be. Also, feel free to make substituions such as oat bran/whole wheat flour instead of oats, but note that it will change the nutritional value and possibly the taste.