A healthy version of a classic Italian comfort food!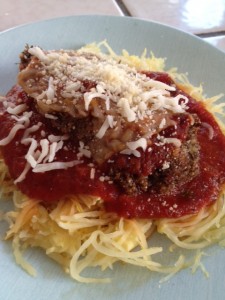 Traditional Chicken Parmesan is breaded (with white flour), fried with butter or oil, and then covered in tomato sauce and cheese…delicious, but not so healthy!
I "cleaned up" the recipe with some healthy substitutions, and it came out GREAT! My whole family asked for more! 🙂
Ingredients: 
5-6 4oz servings of boneless-skinless chicken breasts
1 egg white
2/3 cup tomato sauce (perferably low sodium/sugar, etc).
1/2 cup shredded mozzarella cheese (could use low-fat)
"Breading":
1/4 cup ground flaxseed
2 tbsp grated Parmesan
1/2 tsp Italian Seasoning (mix of parsley, thyme, basil)
1/2 tsp dried oregano
1/2 tsp garlic powder
Pre-heat your oven to 425F. Take a large baking dish and spray with non-stick spray/olive oil spray.
First take your chicken breasts and either 1) pound with a meat mallet until each breast is a thin 1/2 inch thick OR 2) slice each breast in half until they are the desired thickness.
Take two shallow dishes; place the egg white in one. In the second, combine your "breading" mixture (flaxseed, spices, etc). and combine well.
Take one chicken breast and dip it in the egg dish. Then place the breast into the breading mixture, covering both sides completely. Place the chicken into your sprayed baking dish and repeat for the rest of the pieces.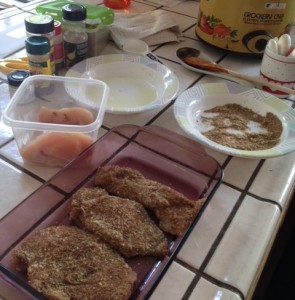 Cover with foil and bake at 425F for 20-25 minutes, or until the meat is completely cooked through (there should be no pink). At this point, switch your oven off and set to "Broil".
Remove the chicken from the oven and uncover. Spoon about 2 tbsp of tomato sauce over each breast. Sprinkle the mozzarella cheese evenly between the pieces (about 1-2 tbsp each, depending on your size). If desired, sprinkle basil and/or oregano on top.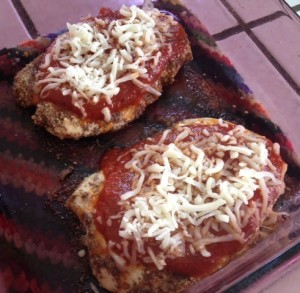 Broil for 5-10 minutes or until the cheese is melted.
Enjoy your Chicken Parmesan with spaghetti squash "pasta", whole wheat/brown rice pasta, and of course, don't forget your veggies! 😉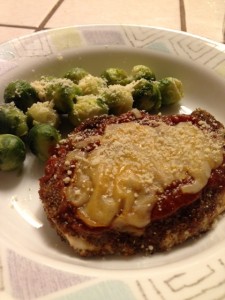 *Flaxseed provides a great texture, and is a great source of healthy fats!! When mixed with the spices and cheese, no one even guessed that's what it was! If you didn't have/want ground flaxseed, feel free to try whole wheat breadcrumbs; a great substitution would be grinding up a piece of Ezekiel bread! However, I think the flaxseed is the way to go 🙂