This tasty salad is perfect for a picnic or parties. I made this and had it as a side dish to my main meal. I "revamped" the normal recipe, which calls for mayo dressing, and substituted a honey-greek yogurt sauce instead, which cuts down on the fat and adds more protein.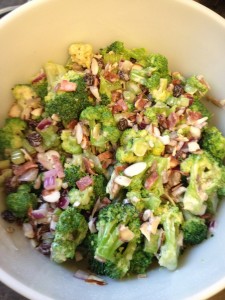 Ingredients: (makes 5 1/2 cups)
4 cups broccoli florets, blanched* (I used a 12 oz pre-cut bag)
1/2 cup red onion, finely chopped
1/2 cup celery, finely chopped
1/2 cup turkey bacon, cooked and chopped (preferably low-sodium nitrate free; I used 3 slices)
1/4 cup raisins
1/4 cup unsalted sunflower seeds
1/4 cup raw sliced almonds
Honey-Yogurt Dressing:
3/4 cup plain nonfat Greek yogurt
2 tbsp apple cider vinegar
2 tbsp honey
1/4 tsp garlic powder
dash of salt and pepper
*I personally blanched the broccoli, which means I partially cooked it. This will give the broccoli a greener color and a little less "tough" texture than when keeping it raw. Sometimes too much raw broccoli can give you a stomachache too 🙁 So, it is up to you and your preference! Blanching is very easy, here is a link step by step:
http://www.wikihow.com/Blanch-Broccoli
Substitutions/Optional:
Feel free to use:
cashews for sliced almonds
cranberries for raisins
regular bacon instead of turkey (or omit completely-be aware regular is higher in fat)
Add 1/4 cup low-fat shredded cheddar cheese
Add diced chicken breast; adds protein and makes this a complete meal!
Directions:
Cut up your broccoli into bite-size florets (or whatever size you would like).
Blanch your broccoli and set aside in a large bowl (link for instructions is above; skip if you would like to keep it raw).
Cook your bacon slices until they are nice and crispy.
While your bacon is cooking, chop up the onion and celery. Add to your broccoli (or to a small separate bowl).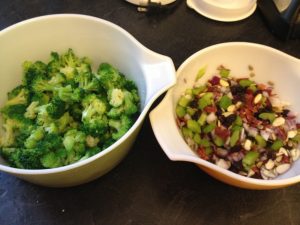 Once the bacon is done, chop finely and add to the broccoli mixture.
Add the rest of your ingredients (seeds, nuts, raisins, and/or cheese).
Prepare the yogurt dressing: take all ingredients and mix!
Add the yogurt dressing to the broccoli salad and MIX thoroughly until the salad is evenly blended together and with the dressing.
Enjoy immediately or cover and store in the fridge!
*If you keep the broccoli raw (not blanching it) the florets will stay a bit crisper for longer. You could also wait and mix the dressing together immediately before serving!
Nutritional Info (with no substitutions):
Per 1/2 cup serving:
85 calories-10g carbs-3.5g protein-3.5g fat