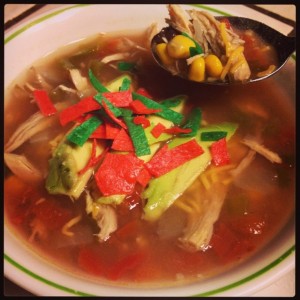 A super easy, healthy AND delicious soup recipe, just in time for the fall and winter months! This can be made in the crockpot or stove-top, whichever you prefer!
Ingredients:
4 cups free-range low-sodium chicken broth/stock
24oz (raw) boneless skinless chicken breasts
1/2 cup whole kernel corn, rinsed and drained
1 can (15oz) diced tomatoes, rinsed and drained
1 cup low-sodium (preferred) black beans, rinsed and drained
1/2 cup yellow onion, finely chopped
1/2 cup green or red (or both!) bell pepper, finely chopped
1/4 cup mild green chilies, chopped
1/2 cup fresh cilantro, finely chopped
1 Tbsp minced garlic
1 tsp cayenne pepper (May use more)
1 tsp red pepper flakes
1 tsp cumin
1 tsp black pepper
2 tsp onion powder
1 tsp garlic powder
1 tsp Mrs. Dash Chipotle or Fiesta Lime seasoning
Optional: Finely chopped jalapeño peppers (if you like spicy!)
Directions:
Pull out your crockpot and pour in your chicken broth. Gently place the (whole) chicken breasts into the pot. Add in the remaining ingredients (beans, corn, veggies, spices). Cover and turn on the Low setting.
Cook on low for 3-5 hours, stirring occasionally (if possible) and allow the chicken breasts to fully cook through and the flavors marinate together 🙂
When the soup is ready, carefully remove the chicken breasts. With two forks, gently shred the chicken into small hunks and place back into the soup.
Serve and enjoy with some yummy toppings: light shredded cheese, plain Greek yogurt (a great substitute for sour cream!) sliced avocado, etc 🙂
Stovetop method: If you do not have a crockpot, not to worry! You may use a (very large) pot instead. Place all ingredients in your pot and set on medium-low temperature. Let it cook for 1-2 hours, or until the chicken is cooked through.
Note: You may use (pre) cooked chicken instead! Feel free to grill or bake it beforehand, shred and then add it with the remaining ingredients 🙂
Hope you enjoy!
Nutrition Facts: (Makes 10 cups (225g each))
120 calories/18g protein/8g carbs/1.25g fat  (1.75g fiber & 2g sugar)