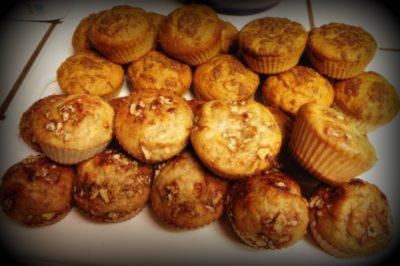 Banana Cinnamon Walnut Muffins
This is a staple recipe in my house! I make them every week; my husband takes them to work and I like them for a quick snack. They are easy to make, portable, and great for both adults and kids! 🙂
Ingredients:
1 cup oat flour (ground up dry oatmeal)*
3 scoops (90g) vanilla whey/casein protein powder**
1/3 cup baing Stevia
1.5 tsp baking powder
dash of salt
1 tsp vanilla extract
1/4 cup egg whites
1 whole egg
200g banana (equal to 1 cup mashed or 2 medium bananas)
1/2 cup nonfat plain greek yogurt
1/3 cup unsweetened almond milk
Optional ingredients:
1/2 cup blueberries or blackberries
Cinnamon and/or maple extract
2 Tbsp sugar free syrup
2 Tbsp Powdered Peanut Flour (PB2)
1/4 cup crushed walnuts/pecans
*Measure out 1 cup dry oats (160g) then blend in nutribullet/blender.
** I highly suggest a whey/casein blend as this will yield a better texture and flavor (versus a straight whey protein). I use Beast Protein, Dymatize XT Extended Release or PEScience in Vanilla flavor.
Directions:
Pre heat oven to 350F.
Combine all dry ingredients in large bowl.  Add in wet ingredients (adding milk last). Mix well until it is a smooth batter. It should be the consistency of pancake batter. Add optional syrup, PB2, spices etc. if using.
Generously spray your muffin tin or use silicone baking cups. Evenly pour batter into muffin tins, filling them about 3/4 of the way full. Add optional berries or nuts at this time by gently dropping them on top of each muffin & pressing them down slightly.
Bake at 350F for 25-30 minutes or until a toothpick comes out clean. They will be slightly browned around the edges and the top. Personally I only need to bake mine for 25 minutes.
Note: Make sure to store these in the refrigerator! 🙂
Makes 12-15 muffins
Nutrition Info (for 12 muffins & no additional ingredients)
1 muffin: 90 calories/9g Protein/9.5g Carbs (1g fiber & 3g sugar) 1.5 Fat