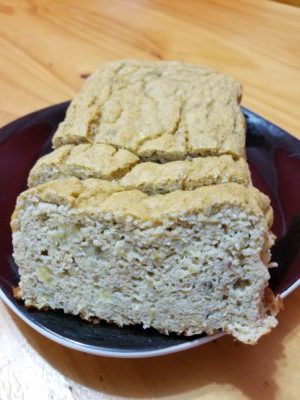 Super easy and tasty banana bread! I have been experimenting with different ingredients, and this recipe is grain free/gluten free and JUST as delicious as my other baked goods! It can also be dairy free (making it Paleo-friendly) by using an egg white or plant-based protein powder. I have only made this as a loaf but feel free to try as muffins. You may also get creative and add crushed walnuts/pecans, chocolate chips, cinnamon etc! 🙂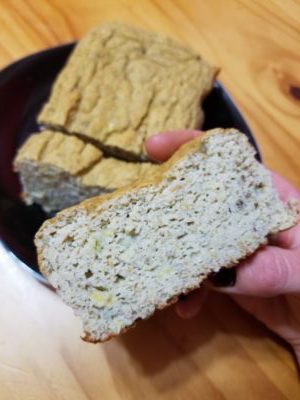 Ingredients:
1/2 cup coconut flour
1/8 cup ground golden flaxseed
1 scoop protein powder (whey/casein blend)
1/2 cup baking stevia
1 & 1/2 tsp baking powder
1 tsp vanilla extract
1 tsp cinnamon
2 whole eggs
3 egg whites
150g mashed banana
1/2 cup unsweetened almond milk
In a large bowl, combine all dry ingredients. In a separate smaller bowl, add all wet ingredients and mix. Add wet to dry and combine well. Careful to not over mix as the coconut flour soaks up a lot of the liquid.
Transfer to a well-sprayed baking loaf pan. Bake at 350F for 35 minutes. It will look slightly not done, but the sides should be lightly browned and a toothpick should come out clean from the center.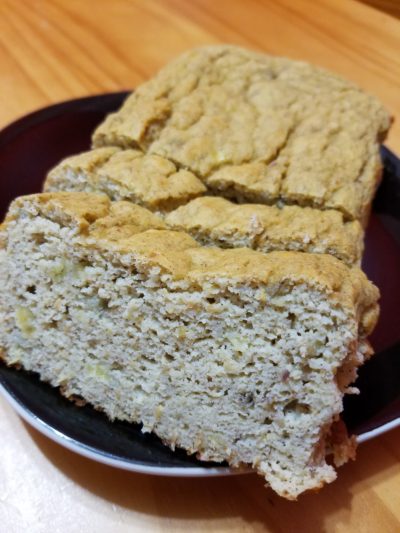 Makes 8 slices (450 grams total weight)
Nutrition Facts:
1 slice (Approx 55grams): 95 calories/3g fat/9g carbs (3g sugar and 3g fiber) 8g protein