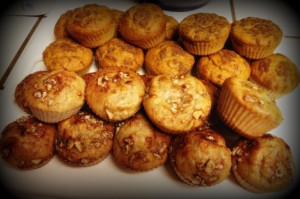 Stay far away from the processed bakery muffins at Starbucks, Costco, or the office break room! Make your own-these are great for a breakfast on the go or mid morning snack! Filled with protein, complex carbs and fiber, these muffins are delicious and also sugar free!
Ingredients:
2/3 cup oat flour

3 scoops vanilla protein powder
1/4 cup Stevia
1 tsp baking soda
1/4 tsp salt
1 tsp cinnamon
4 egg whites
1 cup mashed banana
1/3 cup nonfat plain greek yogurt
dash of milk of choice (I use unsweetened almond milk)
1/3-1/2 cup crushed walnuts
Optional: 1 tsp maple extract OR 2 tbsp sugar free maple syrup
Mix all dry ingredients (except walnuts) separately. Add in wet ingredients until it is a smooth batter. Stir in walnuts (or you sprinkle them on top of each muffin liner). Pour into your well sprayed muffin liners OR silicone bakeware. At this point, I personally top with more cinnamon and sprinkle the walnuts on top.
Bake at 350F for 25-30 minutes or until a toothpick comes out clean. Enjoy!